Welcome to remote work life. We hope this information helps you adjust, connect, and do great work!
Tech Support
Tech support during this time will be available remote only, except for emergencies. Tech support is not able to fix hardware issues with personal computers or resolve home internet connection problems. While working remotely, please remember:
Do not store sensitive, confidential, or original data on your personal computer
Do not sync OneDrive with your personal computer
Emergency Operations Center
The Emergency Operations Center is activated and working remote. All shared documents (schedules, working files, guides, etc.) can be found in the EOC SharePoint. The EOC is using Microsoft Teams to conduct video meetings and have conversations within the various sections.
Cybersecurity
Reports of cybersecurity threats have increased due to COVID-19. This includes phishing emails that try to get you to click on links related to coronavirus vaccines, medical equipment and supplies, and investment opportunities. These attempts are targeting people working remotely using phrases like "Just because you're home doesn't mean you're safe." Some threats include messages claiming to provide VPN and remote desktop software, and others impersonate government agencies.
Please be hypervigilant during this time. Do not click on links from unknown people and only download or install software from Xantrion.
As part of our remote work program, we will be requiring users to set up multifactor authentication for added security. During remote work set-up you will be provided with instructions. To set this up, you will need to complete the Emergency Operations Wireless Policy waiver.
Remote Work Culture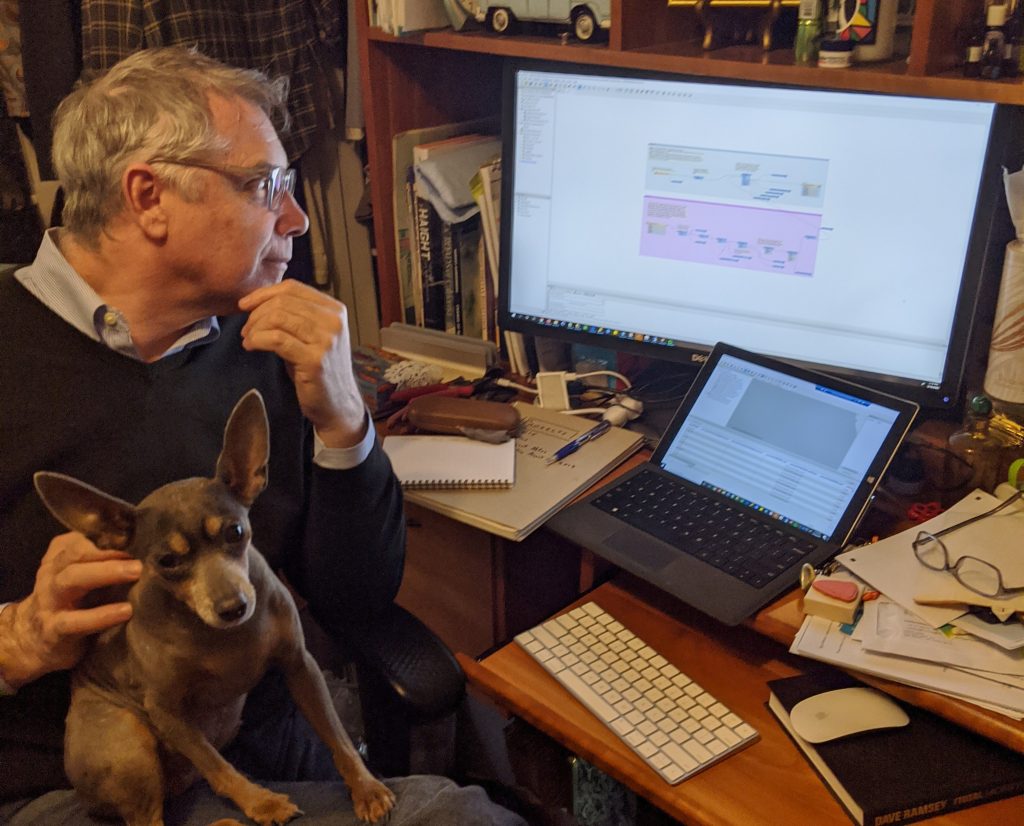 "Social distancing is not disconnecting." – Dr. Matt Willis, Marin County Health Officer
Working remotely can present a big change to your team dynamic. While working from home, you may be trying new things for the first time like conference calls, video meetings, and collaborative technology tools. In addition to new technology, it's also a different way of working with each other. Here are some tips for building an effective remote work culture.
Pro Tips for Working in Distributed Teams
Start each day with a video call with your team. Have each person briefly say what they did yesterday, what they are doing today, and if anything is blocking them.
Turn your video on; it will help you connect with each other and is also conducive to using non-verbal cues like thumbs up if you are muted.
Let your team know when you available and unavailable by keeping your calendar up-to-date.
Start meetings on time out of respect to the punctual.
Create agendas in collaborative documents that everyone has access to. Allow people to add things to the agenda and take notes in it.
THINK before you send emails. Check the "to" and "cc" lines to make sure they are right. Update the subject line to keep it relevant.
Make time for social connections. Have virtual coffee with a colleague in the morning! Schedule a weekly social call with your team.
Adapted from: Quickly Shifting to Distributed Teams in Government webinar
Tips for effective remote meetings
Prepare an agenda (including meeting goals) and share it in advance. Remind everyone the purpose of the meeting.
Invite the right number of people. The more people in a remote meeting, the harder it is to manage.
If you are not talking – please for the love of the universe, mute yourself.
Ask everyone to introduce themselves on the call. If it's not a video call, remember they can't see each other.
It's OK to allow for a little small talk at the start. As we work remotely, it's hard to feel connected to each other.
Encourage participation and engagement but facilitate so only one person speaks at a time.
After the meeting, send a follow-up with any action items and who they are assigned to.
Adapted from: 16 Secrets of Engaging Remote Meetings
Virtual Work Skills
Here are some things to think about and discuss with your colleagues to ensure successful remote collaboration.
Agree on how you will communicate for different types of things. For example, email works well for simple, non-urgent matters but it's better to use a Microsoft Teams video meeting when something is complex and you want to share your screen. Texting is good for an urgent request, but overuse can be overwhelming.
Agree on best times to connect and establish regular check-ins, using a Microsoft Teams video meeting if possible.
Agree on how to share and collaborate on documents. Using O365 you can share documents and work in them together concurrently. This can be more efficient than saving and sending files over email.
Be responsive, take initiative, and communicate periodically with updates. Do your best to not let requests fall through the cracks as that can erode trust. If you can't do something that's being asked of you, communicate that.
Ask people how they are doing and don't forget there is a social element to work, too. Connect by video when possible and remember we are still all humans!
Adapted from: The Virtual Work Skills You Need (Harvard Business Review)