Welcome to the City Team!
A big congratulations on your new role! We are thrilled to have you joining our Team. You're going to be a valuable asset, and we can't wait to see all that you accomplish. We look forward to a successful journey with you. Welcome aboard!
Alone we can do so little, together we can do so much." -Helen Keller
On this page:
Learn about Together San Rafael
City of San Rafael Guiding Principles
About San Rafael
Orient yourself with Local Government
City Departments
City Facilities
How to contact others
City Branding Guidelines
City Purchasing Guidelines
Useful links
Together San Rafael Initiative
Together with our Departments, Together with our Organization, and Together with our Community… modernizing city services and making San Rafael a great place to work
Together San Rafael Guiding Principles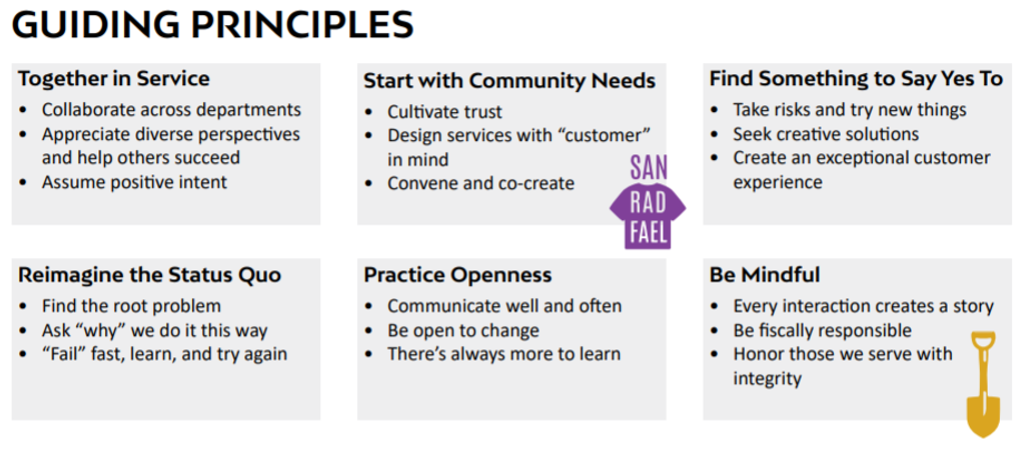 About San Rafael
San Rafael is both Marin County's oldest and most populous City.
Orient yourself with Local Government
How to contact others
All Non-Police Department City emails follow the naming convention First.Last@cityofsanrafael.org. All Police Department emails follow the naming convention BadgeNumber@srpd.org (e.g. 123@srpd.org).
The Citywide telephone directory is linked below. Please note that this directory only lists office phone numbers, City cell phone numbers are not included. All City office numbers begin with (415) 485-XXXX unless indicated otherwise in the directory.
City Branding Guidelines
The City's Logo Branding Guidelines document outlines the framework for logo standards, typography, and color, and provides examples of the system in use. These guidelines help you create materials that are distinct and recognizable, visually positioning the City of San Rafael as "The City with a Mission".
City Font
City Colors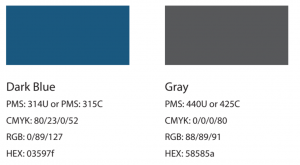 City Email Signature
First Last | City of San Rafael
Position Title
Department Name
Office 415.XXX.XXXX
email@cityofsanrafael.org

City Letterhead Templates
T:\FORMS\Letterhead Templates
City Purchasing Guidelines
General
Types of purchases, per the San Rafael Municipal Code
The San Rafael Municipal Code (SRMC) specifically defines three types of purchases:
Professional services
Public works projects
Services, supplies, materials and equipment
Review the Purchasing Overview webpage on the Finance Department website to familiarize yourself with these types of purchases and their respect award authorities (e.g. which $ thresholds require City Council approval).
Putting out RFP's and setting up contracts
Review the RFP and Contracting Process webpage on the Finance Department website for guidance on what an RFP (Request for Proposals) is and how to set up City contracts/agreements with consultants and contractors. The page also includes information on how to set up Requisitions and Purchase Orders (PO's) with the Finance Department.
Processing invoices for payment
Review the Everything Invoices webpage on the Finance Department website for instructions on how to prepare an invoice for processing by the Finance department including coding the invoice. The page also includes the current year AP Calendar and guidance for department invoice approvers.