Learn about all the past award recipients for the Social Responsibility, Dean Allison, and Innovation awards.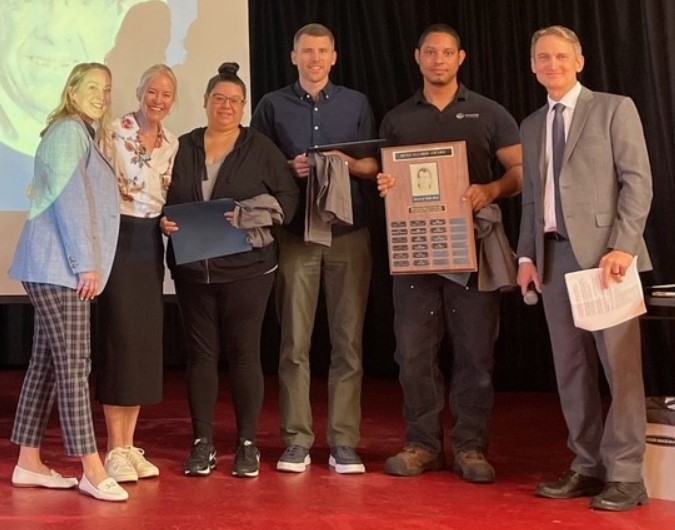 2022 Dean Allison Winner: Anthoney Heaven, Jeff Ballantine, & Perla Maciel
Anthoney Heaven:  Anthoney came to Public Works Facilities from Childcare, where he was for many years. He has come to DPW with a willingness to learn and make a difference with staff and the public alike. Interactions with Anthoney are always pleasant, even in stressful situations. Anthoney is always willing to jump in and solve any issue with a friendly attitude and a smile on this face. He is a pleasure to be around and work with. His nominator says: "He has a great aptitude for persevering in challenging situations. He is a good co-worker and an even better human being." Thank you and congratulations to Anthoney.
Jeff Ballantine: Jeff is the go-to guy, always willing to take on new learning opportunities, even when he is handling high-profile development projects. His nominator says: "I have been impressed with Jeff's customer service and willingness take on a different approach than the status quo. I have presented multiple asks of him, and he always follows through. Jeff has a sense of calmness about him and provides a pleasant outlook when approached. He is always kind and respectful." Thank you and congratulations to Jeff.
Perla Maciel: Perla came to the Library team from Recreation and in both places, she has stood out, always creating a positive interaction with everyone she encounters through her openness, empathy, and kindness. She began assisting with the Reading Buddies program last Fall, and now she is the lead facilitator. Her nominator says that she "was made to work in Libraries, and she has unlimited potential in our field… She not only handles the massive administrative task of scheduling adult volunteers with dozens of beginning readers for weekly reading sessions, she is also the personal contact for families and builds trust with every phone call. Through her excellent bilingual customer service in interactions big and small, Perla helps to make San Rafael a welcoming community for all of our residents." Thank you and congratulations to Perla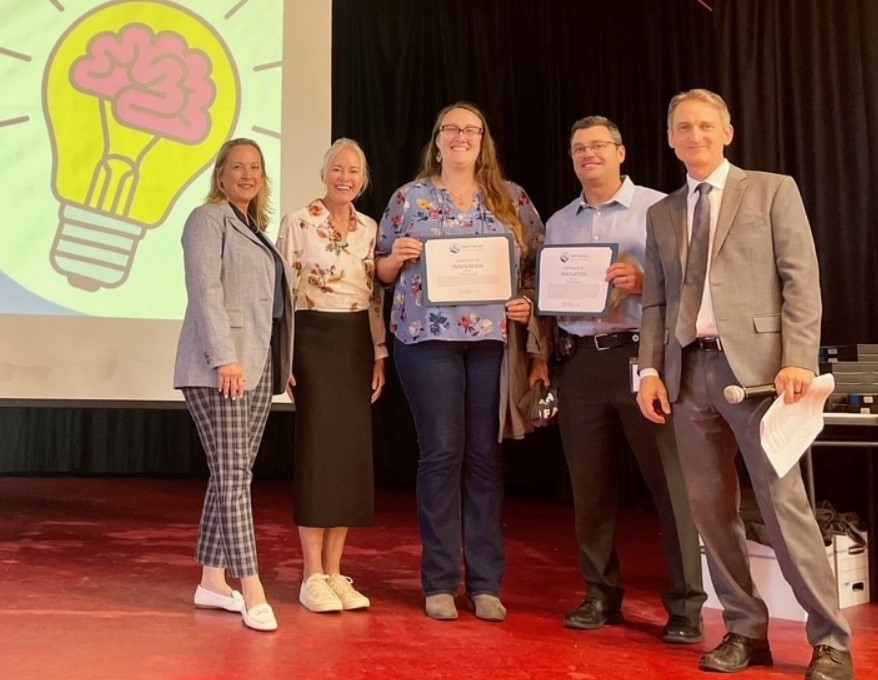 2022 Innovation "Inny" Award Winners: Todd Berringer and Rayanne Lulay
Todd Berringer:  Todd Berringer is responsible for starting the S.A.F.E. (Specialized Assistance for Everyone) team in San Rafael. In a short period of time, Todd was able to bring this innovative program to life that is a major enhancement to the services we provide and already is having a positive impact on the people they serve. His nominator says, "Todd worked tirelessly to get the S.A.F.E. (Specialized Assistance for Everyone) Team up and running, spending countless hours meeting with the consultant and City staff to identify how an alternative response team would function in San Rafael, all while working as the Evening Watch Commander. He prepared staff reports and reported to the City Council with updates and collaborated with Petaluma Peoples Services and the Petaluma PD. Todd acquired all the necessary equipment, a van, radios, office space and furniture for the S.A.F.E Team. He organized the integration of the S.A.F.E Team into San Rafael, coordinating the training between the SAFE Team and the fire and police/dispatch personnel." Thank you and congratulations Todd.
Rayanne Lulay: Rayanne is constantly looking for innovative ways to reimagine the status quo and improve processes and systems helping the City all while keeping the public's needs in mind. Her nominator says, "Rayanne is an exceptional member of the Finance team and consistently goes above and beyond her role to improve processes and improve the customer experience. In addition to working with customers over the phone and at the counter, Rayanne has upgraded and improved the City's business license and cannabis license processes. She led the efforts to move business licenses to an entirely online process and worked to identify and reach out to delinquent licenses" Thank you and congratulations Rayanne.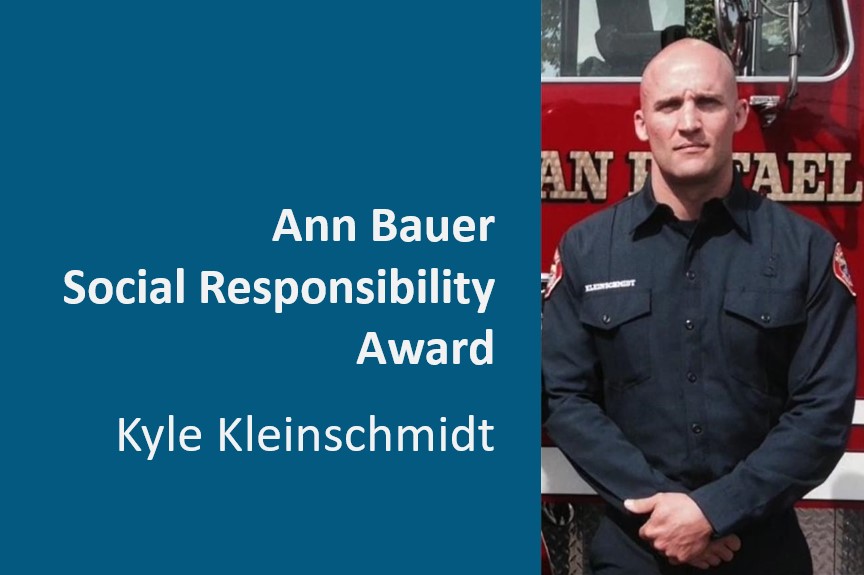 2022 Ann Bauer Social Responsibility Award Winners: Kyle Kleinschmidt
Kyle Kleinschmidt: With the help of the San Rafael Fire Association (SRFA), Kyle co-created the SRFA Scholarship for aspiring future public service professionals, particularly Fire and EMS. He recognized a challenge that many students in underserved communities had who may not have considered or had access to career paths such as these and worked tirelessly to find a creative solution. His nominator says "As part of his effort to raise funds for the scholarship and with the goal of reaching as many students as possible, Kyle partnered with the Fire Foundation to secure matching funds to maximize award amounts to selected students. He has also developed effective working relationships with guidance counselors at both San Rafael High School and Terra Linda High School to distribute applications and raise awareness for this scholarship opportunity… Kyle has served as a fine example of an employee who is making a difference by volunteering his time and experience to address difficult problems with creative solutions." Thank you and congratulations to Kyle.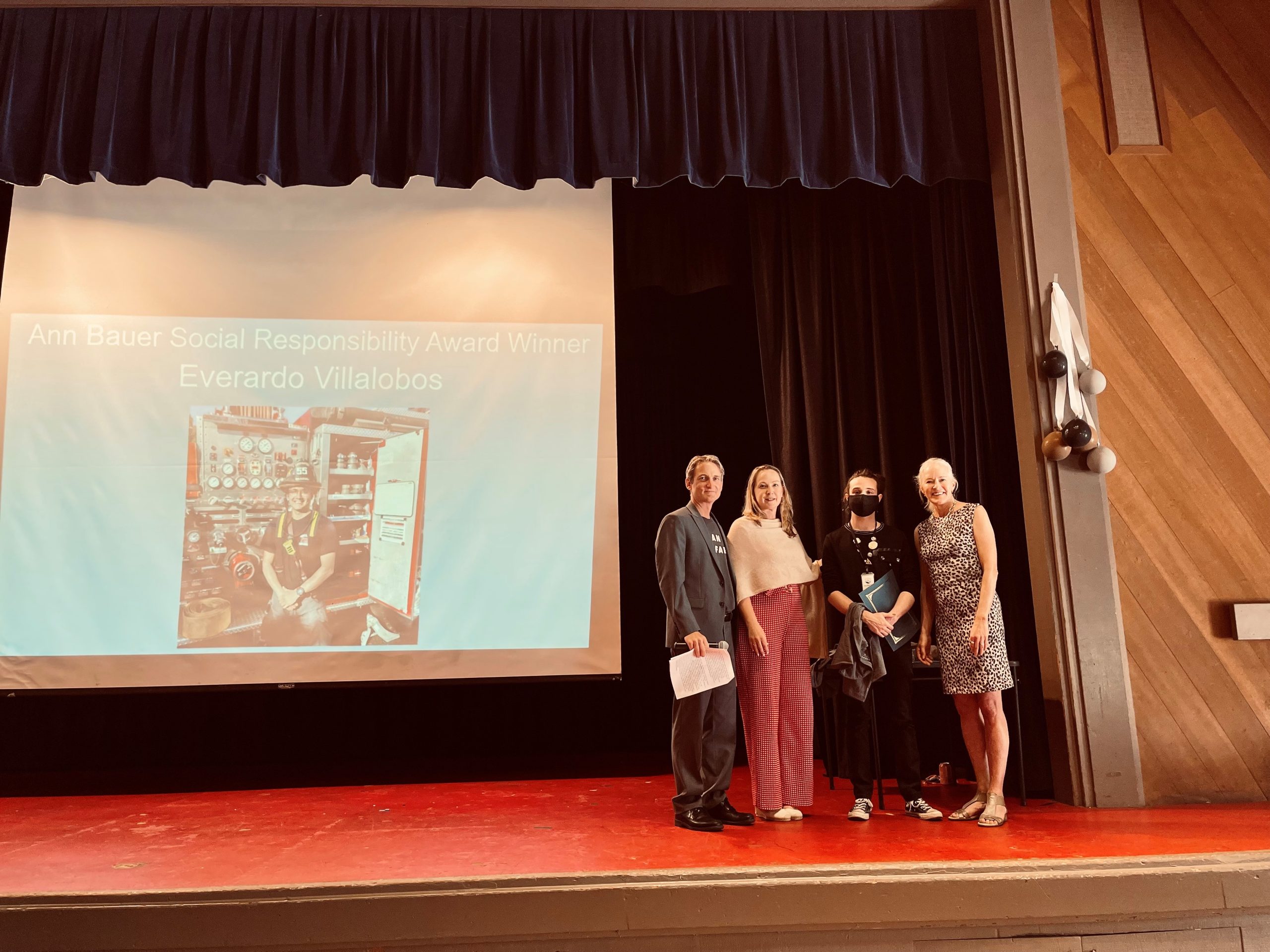 2021 Ann Bauer Social Responsibility Award Winners: Everado Villalobos & Matthew Hurley
Everado Villalobos:  Firefighter-Paramedic Villalobos carries his passion for helping others right on his sleeve for all to see. Asfirefighters we are all called to serve the public and deliver great customer care, however we do have our standoutsand Everardo is one of them. Always on the look out for how he can make an individual's day or life better, Everardoputs the needs of the community before his own and exemplifies what it means to help.
My very best example involved a vehicle accident a couple of months ago, resulting in a small truck being totaled.While we were still on scene, it was discovered the owner of the vehicle had been sleeping in his truck recently,following the lose of his apartment. With no place to stay the night, Everardo used his personnel credit card to put theman up in a hotel, for not one but TWO nights, so he could still go to work during the day and have time to resolve hissituation.
While this is just one example of Everardo's connection to the community,  it illustrates the absolute purest act ofthoughtfulness, generosity and finding a creative answer that I have seen. To touch someone's life so directly andmake such an impactful gesture, is the gold standard we should all be comparing ourselves too.
Taking risks? Yep. Creative answer? Yep. Cultivate trust, customer first and foremost, exceptional customerexperience? You bet.
Matthew Hurley:  Matthew recognizes the importance of the library to all members of the community. They could see there was a population most in need of the library's resources who could not take proper advantage as they had much else to worry about. They took the initiative to create an outreach program at the Service Support Area where those staying there could gain access to books, internet and be connected with resources without exhausting their limited bandwidth. In the months I have known Matthew, I've felt truly inspired by their kindness as I've witnessed time and time again their willingness to go above and beyond for members of our community who need it the most. They are never discouraged by a challenge and have consistently presented creative ways to meet the needs of every community member.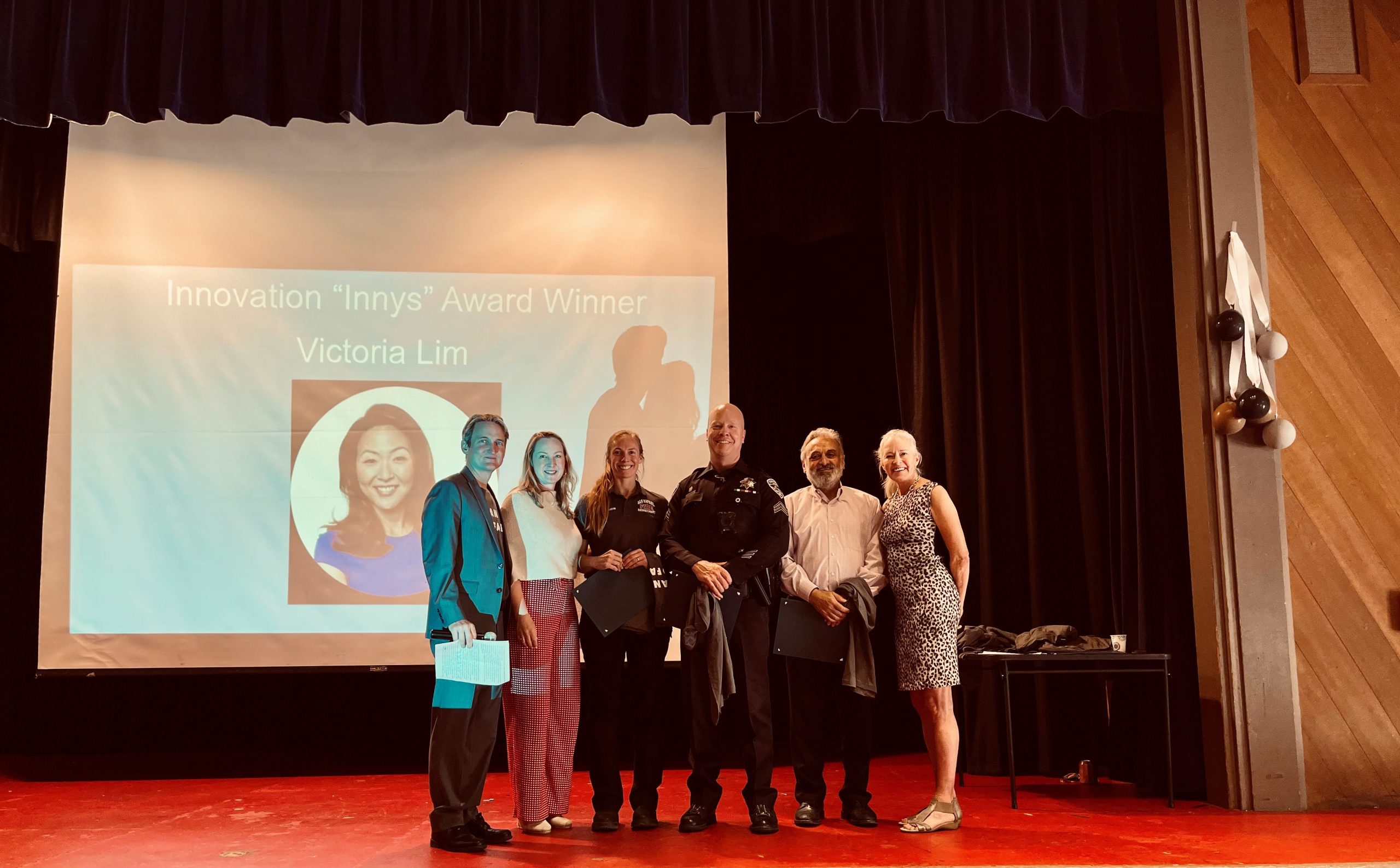 2021 Innovation "Inny" Award Winners: Kate Anderson, Justin Graham, Rafat Raie & Victoria Lim
Kate Anderson:  Since joining the San Rafael team in late 2020, Kate has used her technical expertise, passion, and empathy to leadour Open Space fuels management program. Her work not only helps keep the community safe, but has numerousecological benefits. With a background in both wildfire and forestry, Kate has been able to continuously find commonground and shared objectives between safety groups, environmental groups, contractors, and residents.
Justin Graham & Rafat Raie:  Nominated for their innovative work with the signal light preemption project.
Justin worked with a police car tech company, Whelen, who had a vehicle modem that was originally intendedto provide GPS coordinated community alert messaging to the public during declared emergencies. The tech company hinted that at some point in the future the GPS modem had the potential of being used for signal light preemption.  During this same time, Rafat was working with two additional tech companies, MioVision and GTT, to add signal lightpreemption for the fire department. After Justin heard of the project Rafat was working on, he contacted Whelen andencouraged them to expedite a partnership between all three companies. In short, a partnership was created thatallowed all three companies to work together to create a cloud based, GPS driven, signal light preemption system forall of the city's emergency response vehicles.
Justin and Rafat were instrumental in getting this project off the ground by working with the three companies andinvolving the necessary city departments (Digital Service and Open Government, City Attorney, Finance, CityManager, Police, Fire and Public Works). The signal light preemption will decrease response times and increasesafety for first responders and the public by changing signal lights ahead of the responding emergency vehicles.Studies have shown that signal light preemption can reduce conflicts with traffic and significantly reduce the potentialfor collisions and liability. The application and partnership of the unique technologies of a cloud based, GPS driven,signal light preemption for first responders is a first, for not only San Rafael, but for the nation. San Rafael will be apioneer for other agencies and municipalities who will want to use modern signal light preemption.
Victoria Lim:  Victoria embodies all the Together San Rafael principals as the project manager/lead for the Streetaries project.Victoria took tremendous care and initiative to meet with city staff, local businesses, and our economic developmentpartners, specifically the San Rafael Chamber of Commerce and San Rafael BID, to help transition this vital recoveryprogram into a new city program. Her focus and attention to detail was paramount in helping to move this complexproject forward. Her work touched almost every city department including police, parking, community development,building, fire, code enforcement, public works, digital, finance, city attorney's office, city manager and council. Hercommitment to innovation in combination with her skill set helped the City transition from an emergency program into alonger-term project that builds on San Rafael's important economic recovery efforts.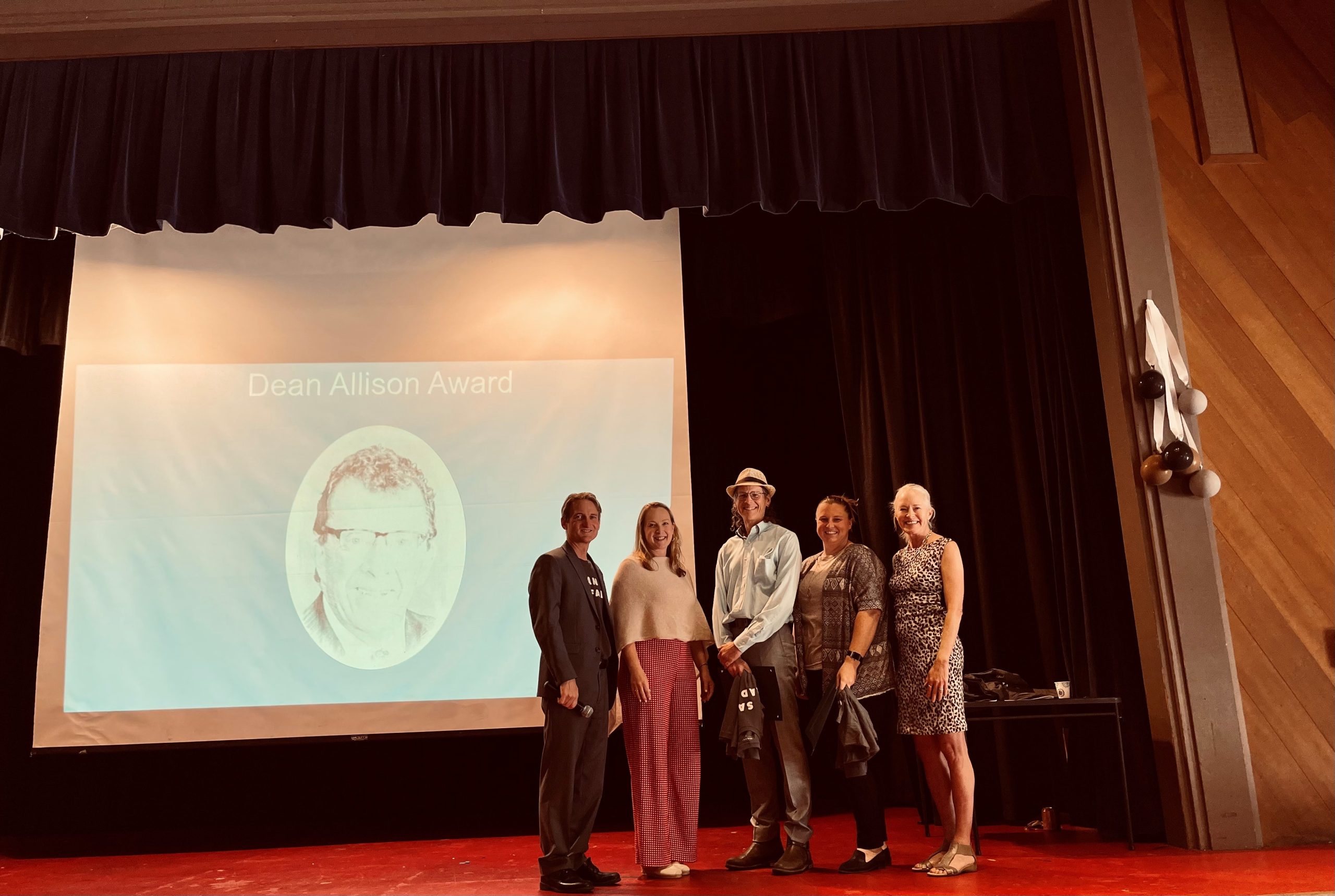 2021 Dean Allison Winner: Cory Bytof & Darcie Chellew
Cory Bytof:  Cory has always practiced the Together San Rafael Guiding Principles in all aspects of his work. His dedication andefforts go far beyond the impressive sustainability work that he does. Cory has always found a way to do more withless, involve the community, and ensure those that don't have a voice are provided one. Cory is always thinking about how he can help others.
Darcie Chellew:  Darcie is always the first person to raise her hand to take on new challenges and to lend a hand. She is an amazingteam member who always approaches any issue a positive attitude. There is not a problem out there that Darcie isn'twilling to solve with a smile!  When the Recreation division started looking for a new software system, Darcie volunteered to be on the selection andimplementation team. Her knowledge of the inner workings of the department, her ability to find creative solutions, and her communication skills were all critical to the success of our software implementation.  She's brought on new arts programming, developed new policies andprocedures, and worked across departments to creatively solve numerous challenges presented by an aging facility.We won't soon forget the time that the veranda was unexpectedly closed for safety reasons in the middle of weddingseason - Darcie worked with our renters and Public Works to find alternative options that kept their special occasion sspecial.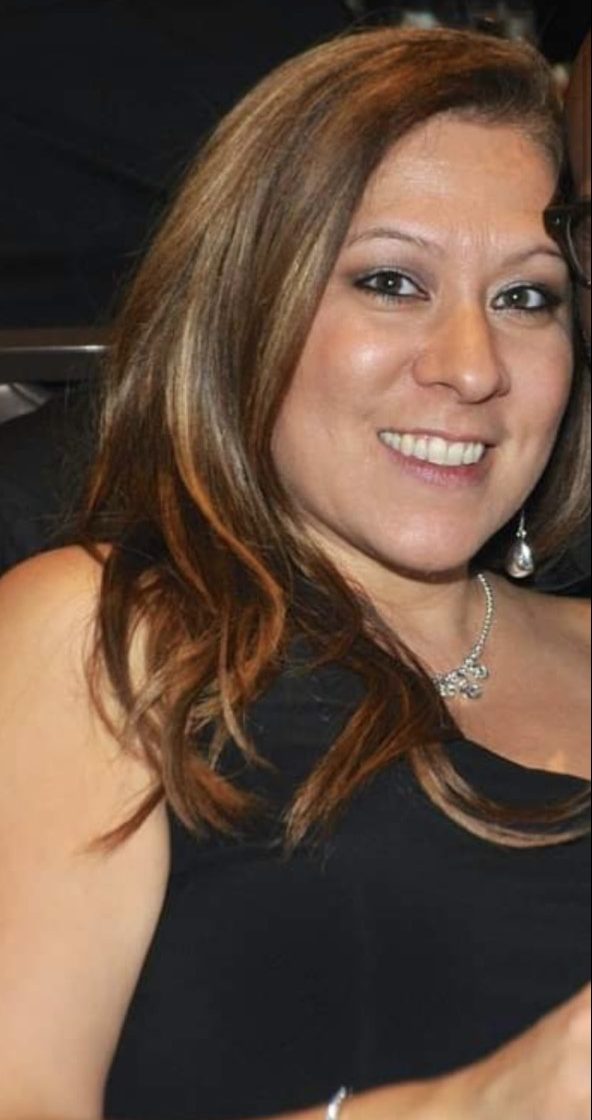 2020 Dean Allison Award: Sylvia Gonzalez-Shelton
Despite the struggles this past year brought, Sylvia worked tirelessly and remained positive, helpful and collaborative no matter what came up. Sylvia took charge of EOC HR activities as well as continuing to maintain her role in general HR operations. She co-created several important documents such as the COVID exposure chart, the procedures on remote work, the guidance for when the Families First Act applies to employees, and she was instrumental in the Voluntary Retirement Separation Plan program. Amidst all of these difficult topics and needs, she took time to listen, communicate, ask well-thought-out questions and educate others. Her nominator said, "Sylvia is humble, patient and I've witnessed her work well with all types of flavors. She is a role model for her team and all those who work with her. I am proud I get the opportunity to work alongside her!" Thank you and congratulations to Sylvia.

2020 Dean Allison Award: Catherine Quffa
Despite some very serious challenges this past year, Catherine has stepped up in so many ways to support the community. She was a key member of the Canal Policy Working Group, worked on complicated housing policy issues and a whole new realm of rental assistance programing.  Her work has included significant collaboration with County leadership and staff, as well as with key community based partners. Catherine has been able to establish credibility and trust with the leadership of Canal Alliance, Community Action Marin and Legal Aid of Marin. Her nominator says, "The thing that makes Catherine so special is she has the unique combination of being extremely competent, but also amazing at forging relationships and communicating difficult concepts, all the while staying focused on results. Catherine shows up with a willing and grateful attitude and is always thinking a few steps ahead and taking initiative to be more helpful and anticipate needs." Thank you and congratulations to Catherine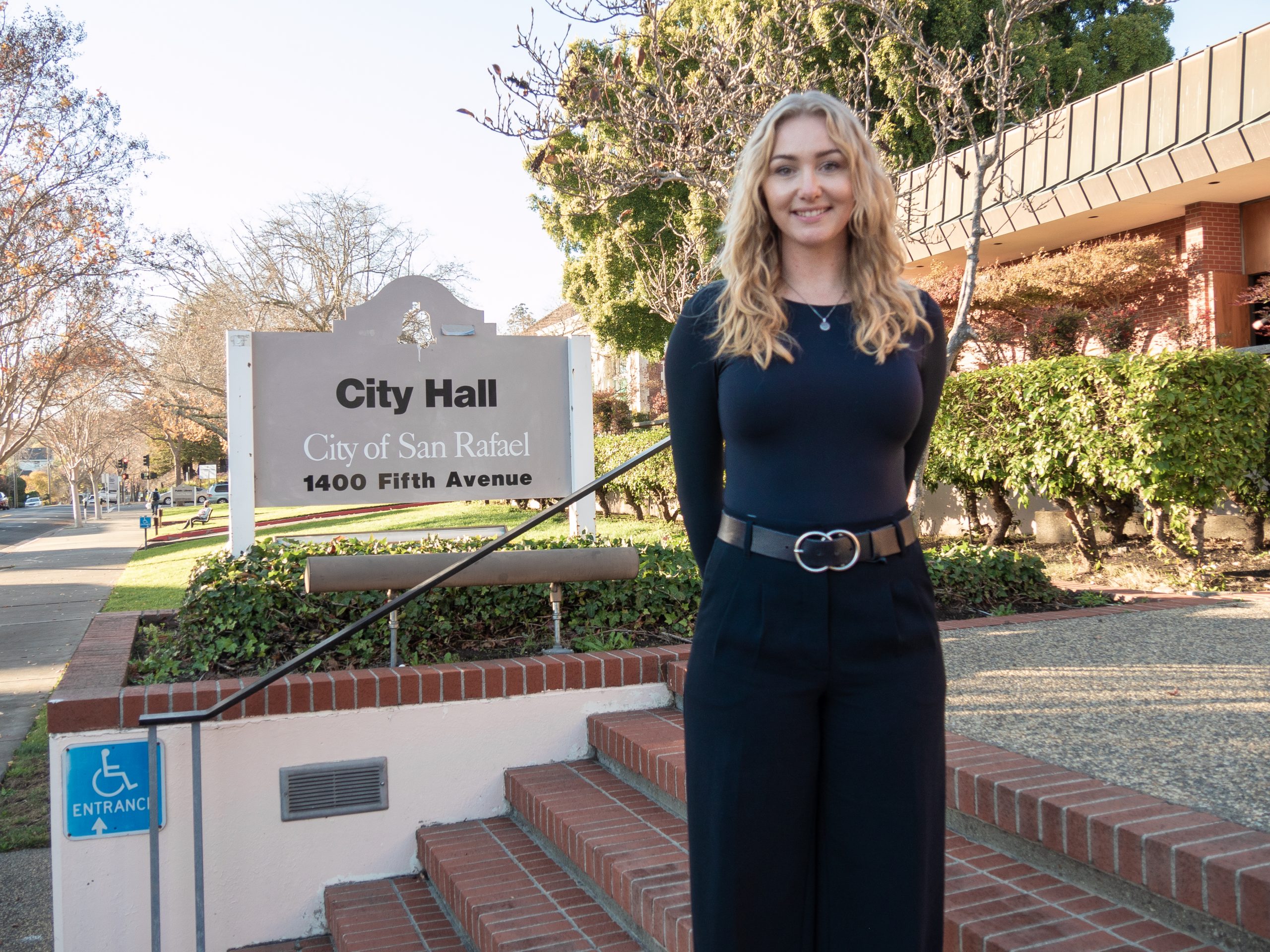 2020 Dean Allison Award: Lindsay Lara
Lindsay is always looking for new ways to help and support staff and the community. She is constantly looking to improve in her craft and elevates her game as a leader, reaching new levels of high performance. Her nominator says, "I feel her profound commitment to the Directors team, and by extension, I am constantly inspired by her joy and love for the entire organization. She is a shining beacon of everything that's great about working for the City." Thank you and congratulations to Lindsay.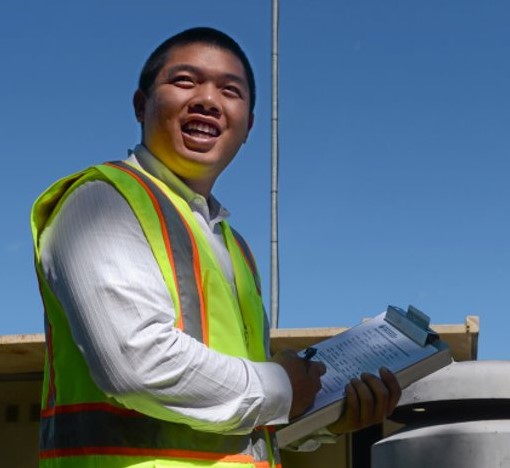 2020 Dean Allison Award: Thomas Wong
In a year where every City employee has stepped up to creatively modify and continue their regular duties in serving the City of San Rafael, PLUS take on new responsibilities with the EOC and DSW, there are many heroes. His nominator said, "Since joining the EOC, Thomas has creatively and tirelessly addressed the needs of his section/s. Starting off at the beginning of the pandemic by working nights and weekends to get signs to various locations in the City informing the public of closures and restrictions, to ordering PPDs and EOC related supplies, deploying staff and volunteers to needed locations, continually updating all of the signs and assignments, and then not only acting as Logistics Section Chief but later serving as Operations Section Chief at the same time." Thomas took on many roles this past year and has done an amazing job in everything he takes on. His nominator adds, "Thomas has remained receptive, organized and positive, always displaying appreciation to his co-workers. Thomas has shown true leadership skills and the City is fortunate to have him on our team." Thank you and congratulations to Thomas.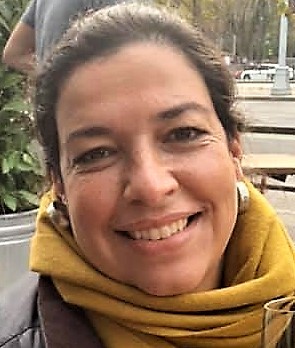 2020 Innovation "Innys" Award: Gaby Farias
Gabriela "Gaby" Farias played a significant role in figuring out how to redesign the childcare program so that we could safely provide childcare to essential workers early on in the pandemic. The program was so innovative, it was one of the first Childcare Pop-Up programs in the State of California and was recognized by the California Parks & Recreation Society's Board of Directors (Five Snaps Award) on April 9, 2020. Her nominator says, "With so much uncertainty in the beginning of Covid-19 pandemic, Gaby was the first Childcare employee to step up to the challenge and jumped right into her leadership role in managing staff from different sites. Her ability to work under pressure with a changing dynamic every day during the pandemic [and] her flexibility and easy-going demeanor, helped pave the way to success in the Pop-Up Childcare program." Gaby was critical to launching and running our Pop-Up childcare program at Vallecito Elementary School and after a few months, the program was expanded to accommodate more families at all of the City's School-Aged Childcare sites and pre-schools.
Thank you and congratulations Gaby.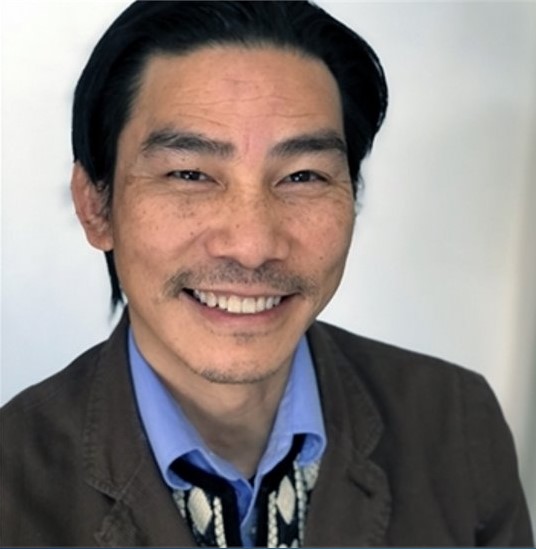 2020 Innovation "Innys" Award: Vinh Pham
When the pandemic hit and the need to provide WiFi to students rose, Vinh led a cross-sector technical team to build a free WiFi network in the Canal working with multiple departments, agencies and volunteers to make it happen. His nominator says, "Vinh's creativity and persistence helped us overcome several challenges throughout the course of the project." Thank you and congratulations Vinh.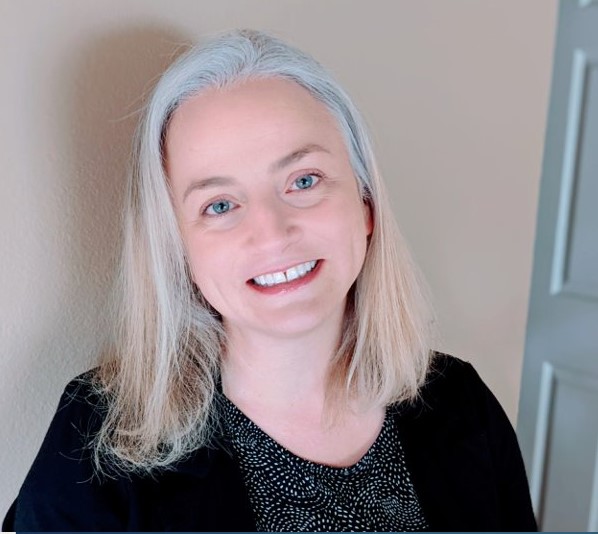 2020 Innovation "Innys" Award: Michele Ginn
Michele is known for her empathy which has allowed her to see the needs of the community and find solutions that have great impact. When the pandemic began, Michele worked on ways to continue providing great customer service. Her nominator said "Michele partnered with others in our organization to initiate the virtual front counter, she tested different ways for community members to schedule meetings (google, calandly), she automated the general planning application forms and when she realized it wasn't seamless for applicants, she took it one step further; and with the help of digital services staff, she incorporated e-signatures" Michele is constantly working on ways to help speed processes to not only help the customer, but staff as well. Congratulations and thank you Michele.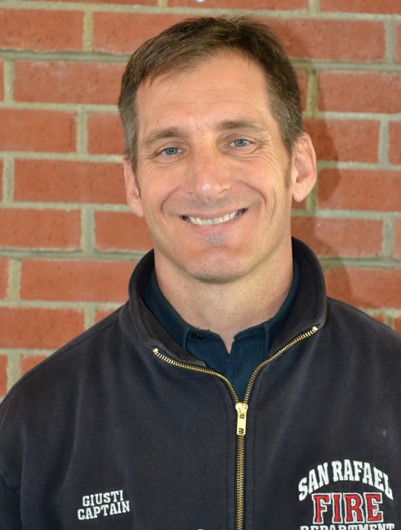 2020 Innovation "Innys" Award: Nick Giusti
Nick is known to constantly going the extra mile to help, moving his schedule to accommodate requests. As training director for numerous recruit academies, Captain Nick Giusti has demonstrated a level of commitment to the organization and community that is unparalleled. His nominator says, "In addition to nearly training the entire department of sworn men and women, Ca. Giusti has developed methods of training and evaluating recruits using proven core competencies, while maximizing the use of on duty engine, truck, and transport companies to conserve valuable resources and still achieve high levels of recruit success and proficiency." His nominator adds, "Additionally, he is very responsive to requests to develop and provide for in-house training programs as needed. He also responds to the repeated requests for available strike team/wildland urban interface firefighters and has extensive experience fighting fires in the mutual aid system." Thank you and congratulations Nick.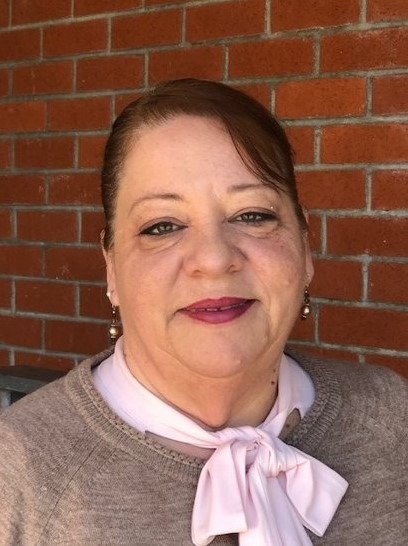 2020 Social Responsibility Award: Ana Santiago
In a year full of changes and uncertainties, Ana has gone far above and beyond her duties as the City's Code Enforcement Supervisor. While being the City's sole code enforcement officer during this period, Ana also took on the huge job of contacting, in person, over 150 restaurant and other business owners in the City to educate them as to the health order requirements applicable to their businesses. She conducted this outreach efficiently and effectively. In addition, Ana, who is fluent in Spanish, assisted in the outreach and efforts to educate residents of the Canal neighborhood about the availability of testing for COVID-19 and other important information and updates concerning the virus and the County's health orders. Her nominator says "Following an unsuccessful effort to sustain a countywide COVID-19 Enforcement Task Force, enforcement and oversight of the SIP order for the City of San Rafael fell to Ana. Ana immediately became the City's point person for complaints on potential violations of the SIP order. Teaming with Parking Services staff, Ana has had to review, investigate, and resolve over 130 filed complaints. She has had to issue a handful of citations with fines to business owners. During this time, Ana has maintained a level of compassion and professionalism that is true to the Together San Rafael Principles." Thank you and congratulations to Ana.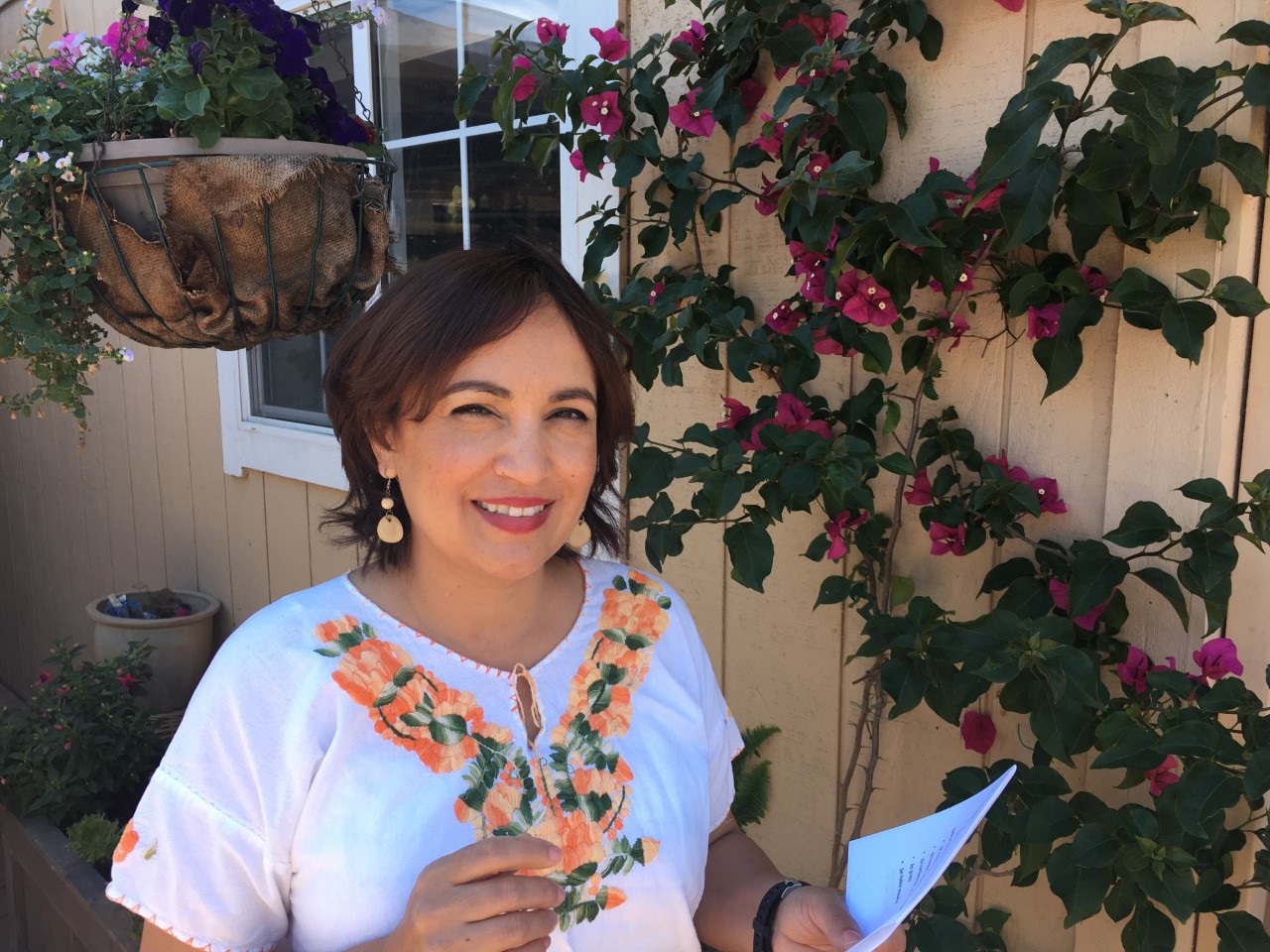 2020 Social Responsibility Award: Mireya Renteria
In our line of work, putting the customer first is essential. But there are some that take it further and Mireya is a perfect example of "start with community needs". She balances her vast institutional knowledge and job expertise with an enthusiasm for progress and change, always with the patron in mind. Her nominator says, "When faced with a new challenge, Mireya stops and says, "I'm going to think like a patron for a moment", and considers the needs of our customers, particularly our Spanish speaking residents. Her thoughtful input has helped us to tailor our services to better meet the needs of the community." Mireya goes above and beyond to assist and takes the time to teach and empower them. Her nominator adds, "Mireya's commitment to our community is inspiring, and working alongside her uplifts me and reminds me what it means to be a public servant." Thank you and congratulations Mireya.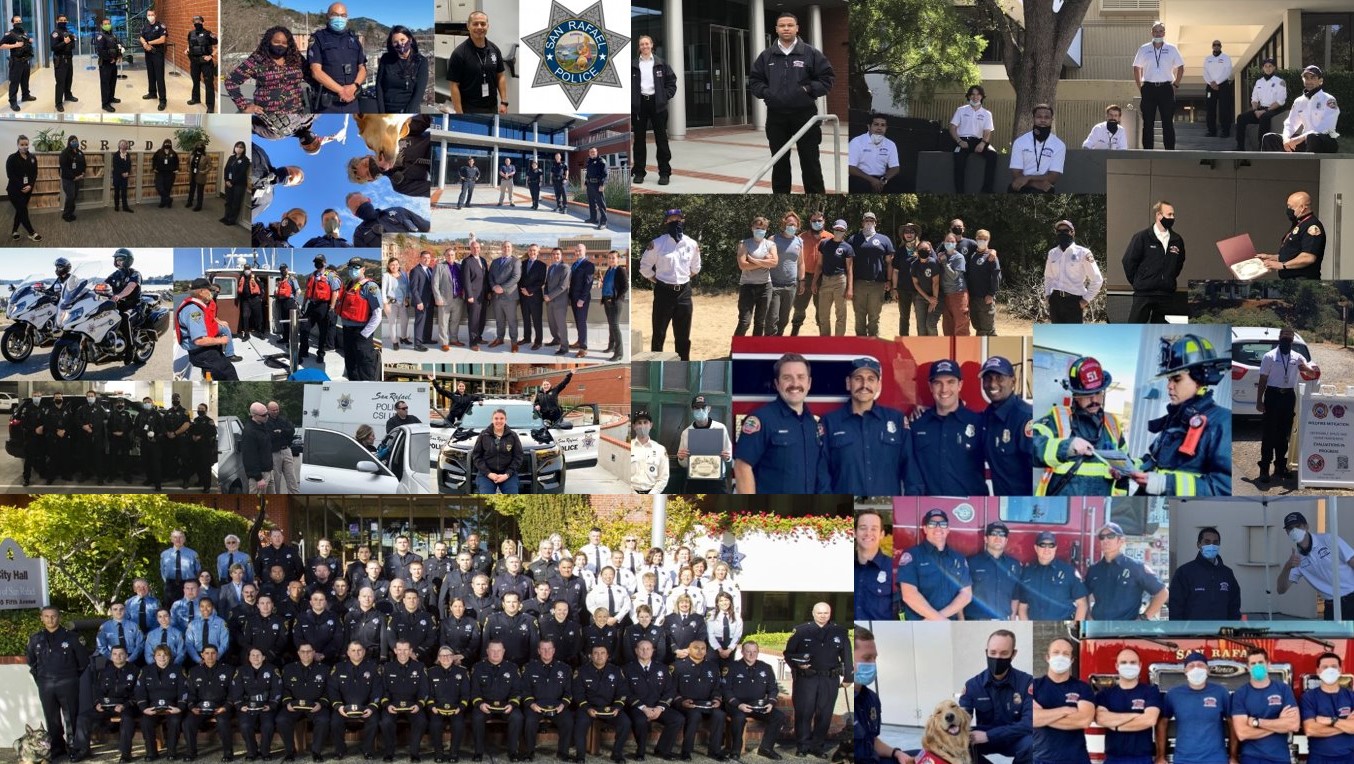 2020 Social Responsibility Award: The Men and Woman of the San Rafael Police and Fire Departments
"In 2020, San Rafael's public safety professionals were confronted with the very real and dangerous threat of an unknown and deadly virus. As first responders across the country and in the Bay Area were exposed to the COVID-19 virus, protocols were formulated to provide a measure of protection necessary for those who protect lives and property from any, and all threats imaginable. The development of safety protocols and best practices occurred on the fly, as the pandemic was starting… Each day the men and women of the fire and police departments continue to serve the community through acts of valor and numerous tasks including, but not limited to, volunteering to provide COVID testing and vaccination administration, community outreach, and collaborative efforts with internal and external partners. Personnel have made themselves available to take on leadership and other key roles for countywide efforts and deployment to local, regional, and statewide requests for assistance in hospitals and Points of Distribution."
Fire personnel stepped up finding ways to keep each other and the community safe while continuing to respond to emergencies. Taking on new roles and learning to adapt to all the changes that were constantly coming. Their nominators said, "In addition to the additional work and risk due to the COVID-19 pandemic, we also experienced another historic wildland fire season. The SRFD was again summoned to support our neighbors and other areas of the state to assist with several severe fires. This further affected staffing and caused our members to provide needed staffing in the form of backfill and pre-positioning assignments."
The San Rafael Police Department has had a steady and significant contribution toward the efforts to improve community outcomes. From partnering with the County to get the motel shelter program (Project Room Key) up and running and finding eligible people who were experiencing homelessness and were vulnerable to COVID, to fill ninety beds at local motels in San Rafael. To creating additional videos for Facebook Live Q&A events and Instagram Stories, as well as being present at various food distribution sites, testing sites and other events to provide Information and dispel negative rumors about testing to the community. Police personnel continues to work hard not only cross departmentally but with other agencies to provide as much support and services as possible during the COVID-19 response.
It is difficult to list everything the departments have done but their work demonstrates the commitment they have to their jobs, the community and team. We are proud to have them as a part of the City of San Rafael. Congratulations and thank you to all Police and Fire Department Personnel.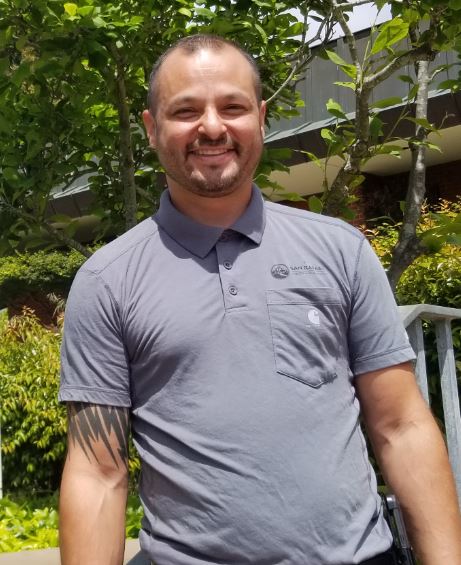 2019 Dean Allison Award: Omar Garcia
Omar instantly makes you feel like a friend. He has a very warm and thoughtful personality. He is a creative, positive, can-do problem solver. He cares about his fellow staff members and our San Rafael community. Omar works to keep our facilities open and safe in all ways for members of our staff and visiting public, which can be very challenging. Omar's nominator called him a "natural leader" who has found ways to do more with less in our department representing the City of San Rafael and Public Works. Thank you and congratulations to Omar.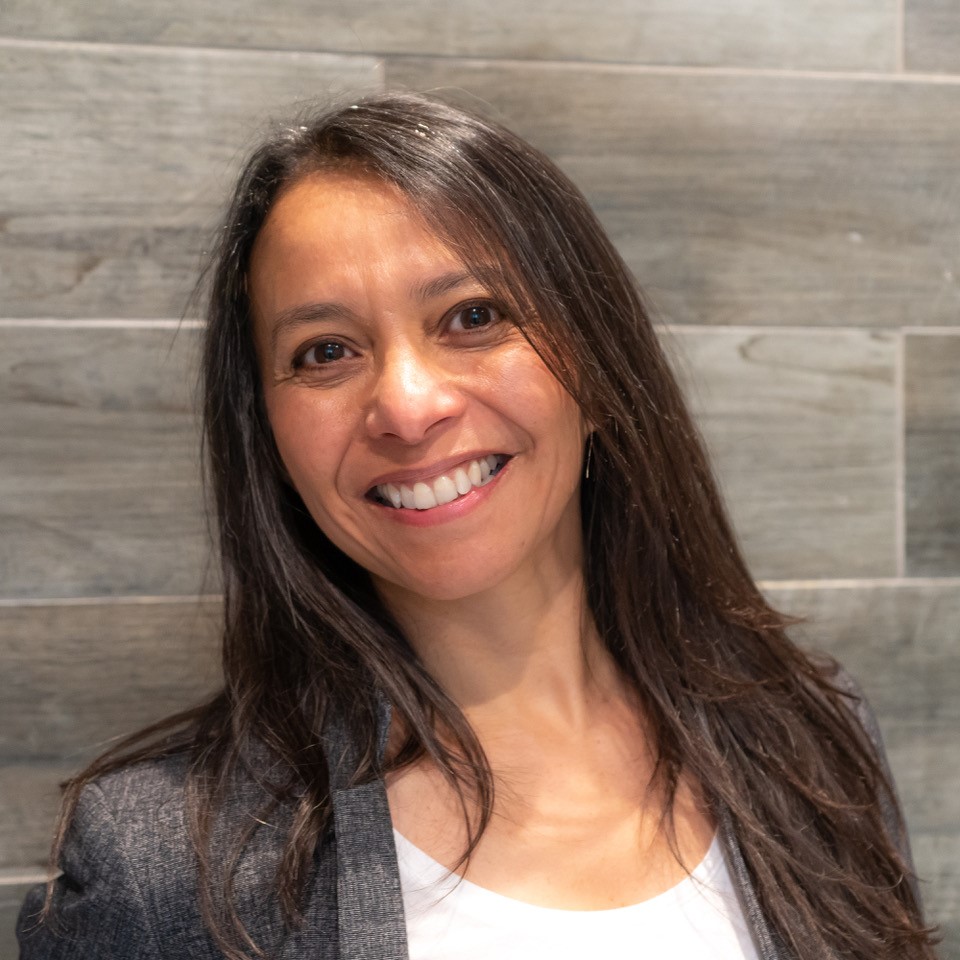 2019 Dean Allison Award: Ali Giudice
Despite some very serious challenges such as trying to create more affordable housing and housing for those experiencing homelessness, Ali remains tenacious, open-minded, and willing to try to find something to say yes to. She sees learning and growing as part of her job. She is incredibly positive, patient, and open to feedback. Ali's nominator says that she "avoids the traditional "bureaucratic" approach and is an exceptional ambassador for our organization." Thank you and congratulations to Ali.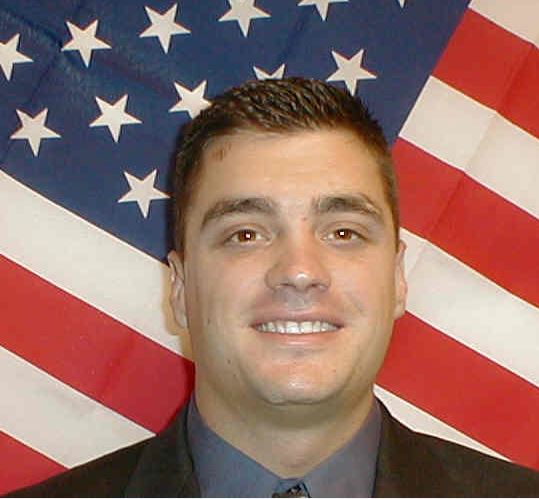 2019 Innovation Award: Todd Berringer
Todd has shown innovation, commitment and dedication in his work. His Together San Rafael Learning Lab team in 2017 focused on the issue of illegal dumping. Since then, he has worked diligently and collaboratively, with both the Sustainability division and Public Works department. He created a mini-grant program for businesses to install preventative measures like security cameras and lighting, and worked to get two DPW employees deputized to issue administrative warnings. He also helped train officers on the issue. Recently, there's been two notable cases, including an arrest for dumping a large amount of hazardous waste. Todd received multiple nominations and one of his nominators said, "He looks for the root problem then works collaboratively asking "why do we do this task a certain way?" Together with his work group, he is not afraid to fail as Todd knows that failure is often the step before learning and success. Thank you and congratulations Todd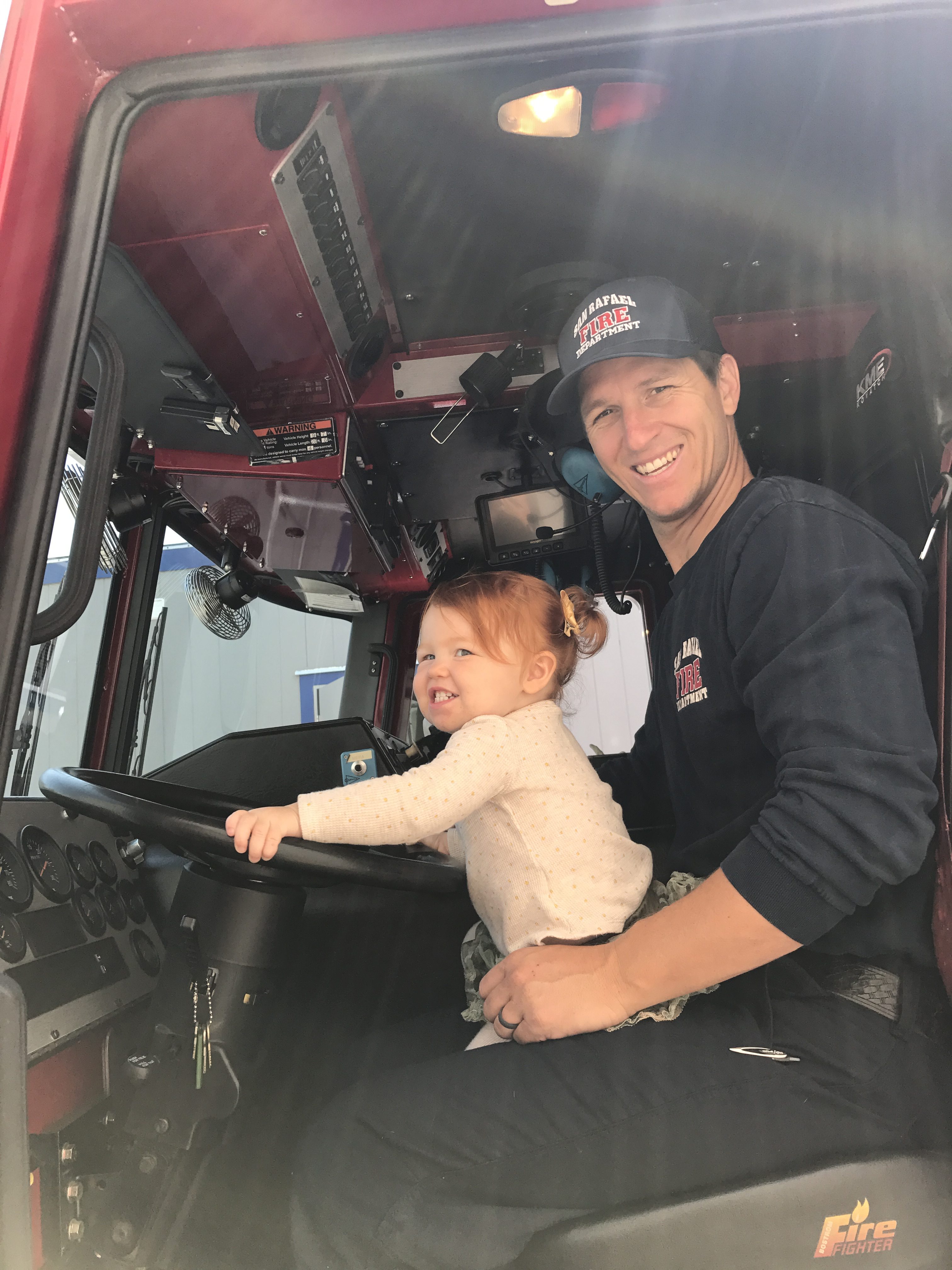 2019 Innovation Award: Shawn Gordon
Shawn is known to his peers as an innovator, as he constantly achieves significant innovations in his day to day work. An example of one is that he devised a system to quickly resupply their Self Contained Breathing Apparatus (or SCBA's) after a fire accident. Shawn oversees all the SCBA's in the Fire Department and insuring their functionality. The system he devised keeps spare bottles in a central location and available for resupply immediately after a fire incident. There are usually 20 or more bottles used on any structure fire incident. With Shawn's system, Fire apparatus can quickly be returned to full availability without waiting to refill SCBA bottles. This provides efficiency for the fire personnel and better emergency response protection for the community. His nominator says, "Shawn provides a tremendous service to the City of San Rafael and does so mindfully and with a positive attitude." Congratulations and thank you Shawn.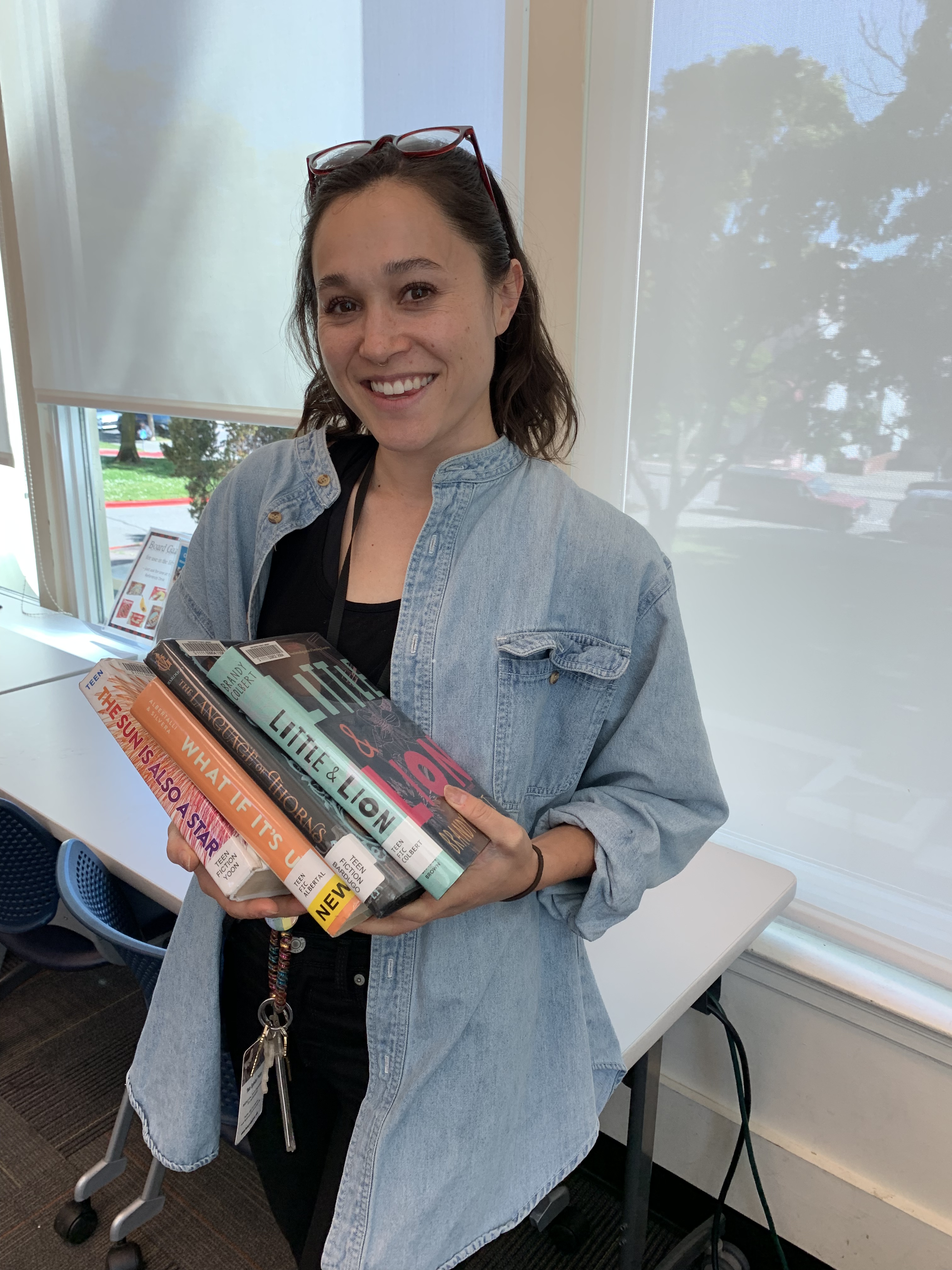 2019 Innovation Award: Jill Tokutomi
Jill is always thinking of new ways to get work done better. Jill figured out a new, streamlined process for efficiently doing 3D prints. Her nominator says, "Jill has brought on many new, enthusiastic teen volunteers, and has a magical way of figuring out each volunteer's strengths." In practicing openness, Jill had a representative from an LGBT group come to their all staff meeting to explain to staff how to create a welcoming environment. Her nominator adds, "I am always inspired by Jill's enthusiasm and energy and believe that she would be an excellent recipient of this award." Thank you and congratulations Jill.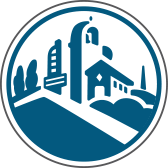 2019 Social Responsibility Award: Earl Boisclair
Earl spends a lot of his free time volunteering for the community. He has dedicated his life to working with young people – mainly teenagers through the Amala Foundation. He helps host an annual Global Youth Peace Summit, which unites youth from over 25 countries for a week dedicated to healing, personal growth, cultural exchange, leadership development and community building. He is an accredited violence prevention and substance abuse counselor, and also volunteers at San Quentin facilitating groups dealing with issues of domestic violence, substance abuse, and trauma. In addition, he's volunteered for Marin Outpatient Recovery Services and Marin Services for Men. Thank you and congratulations to Earl.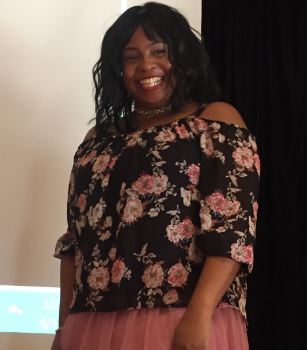 2018 Dean Allison Award: Antonette "Tiny" Bullock
Tiny has an infectious positive attitude that lights up the room. Her passion for public service is impossible to miss.  Tiny has been in charge of running the extremely popular Citizen's Police Academy, National Night Out, and also is taking on the new Police Academy at Davidson Middle School. Tiny does it all with a focus on excellent service and people automatically feel like a valued friend. Tiny is a "people person" and her passion for the Police department and for people are evident in everything she does. Thank you and congratulations to Tiny.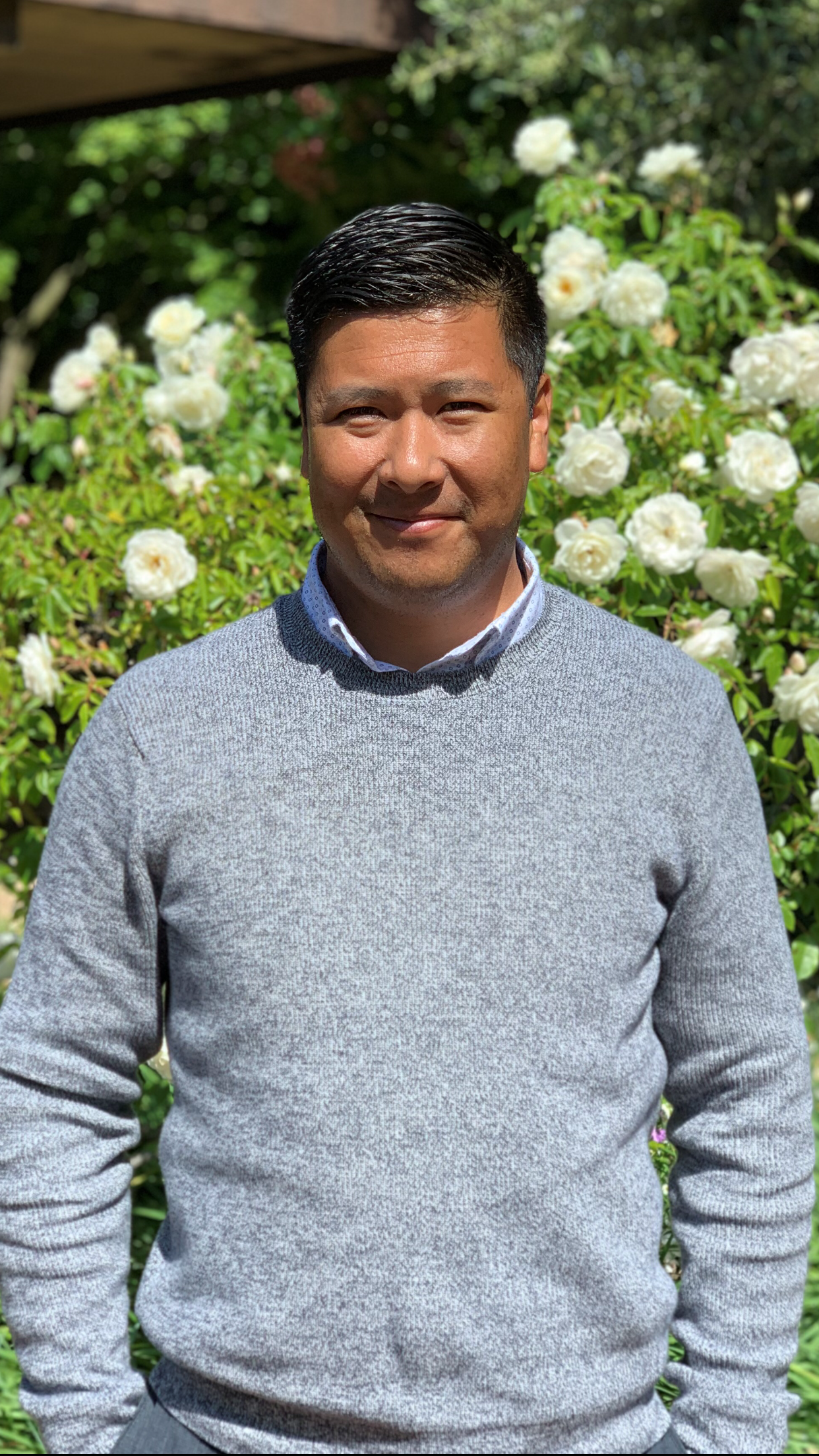 2018 Dean Allison Award: Jason Fong
Jason volunteered to be part of the Together San Rafael initiative, working on cross-departmental projects. During the absence of both clerical staff and a manager, Jason willingly jumped in and absorbed all their responsibilities along with his regular job duties. He goes above and beyond what is expected and is always positive and willing to assist wherever necessary. He looks for ways to collaborate with others and streamline processes and make things easier and more efficient. Thank you and congratulations to Jason.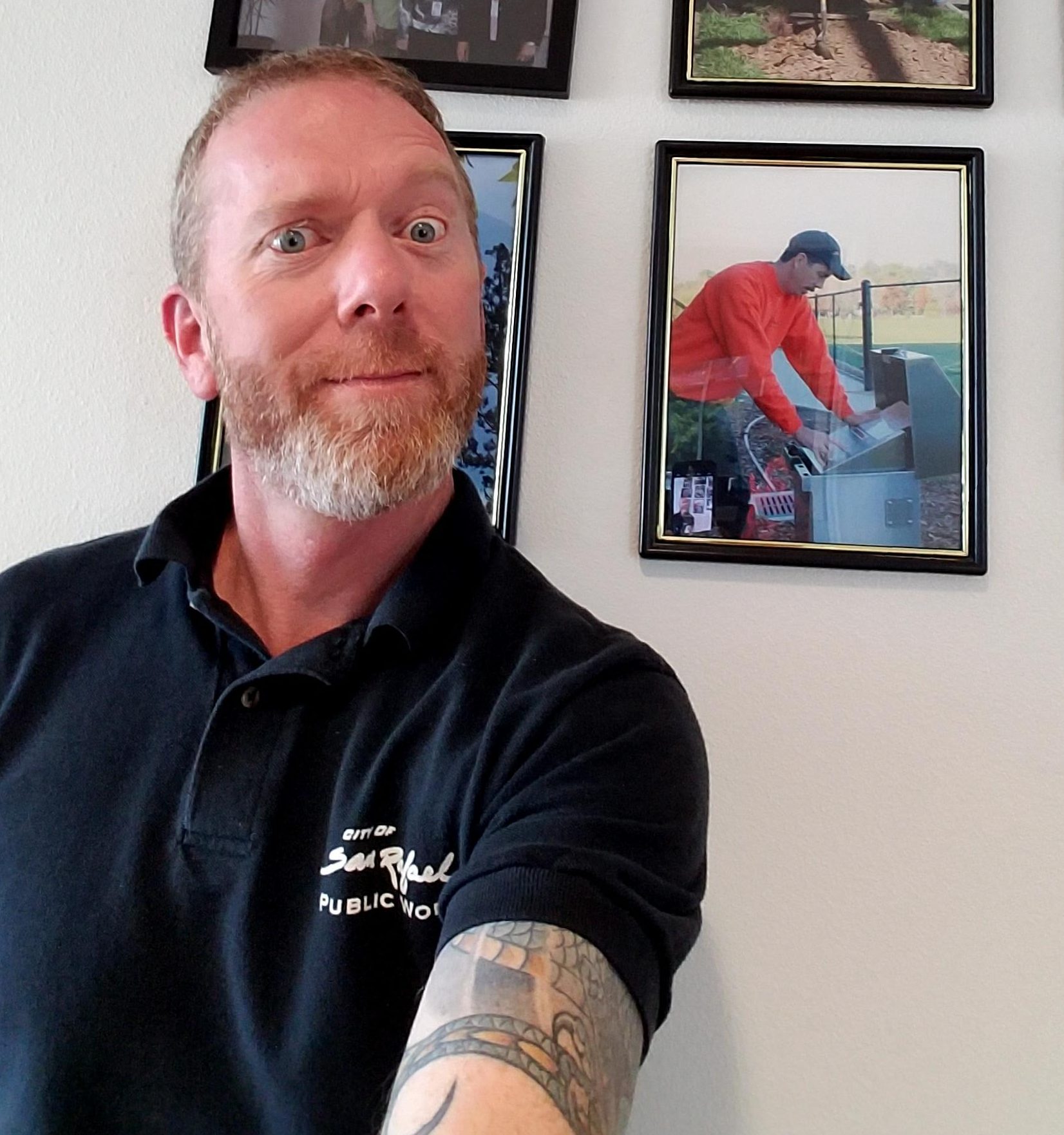 2018 Innovation Award: Brendan Mitchell and Aaron Tubbs
Brendan and Aaron are the impetus for a new "Park-a-Month" program. This program leverages the help of volunteers to help with monthly park beautification projects, such as new ground material in playgrounds, bark distribution, park clean-up, weed removal, painting and general beautification that can be done by a group of volunteers. Thank you and congratulations Brendan and Aaron for finding new, innovative ways to make San Rafael more awesome.
*Selfie of Aaron with a picture of Brendan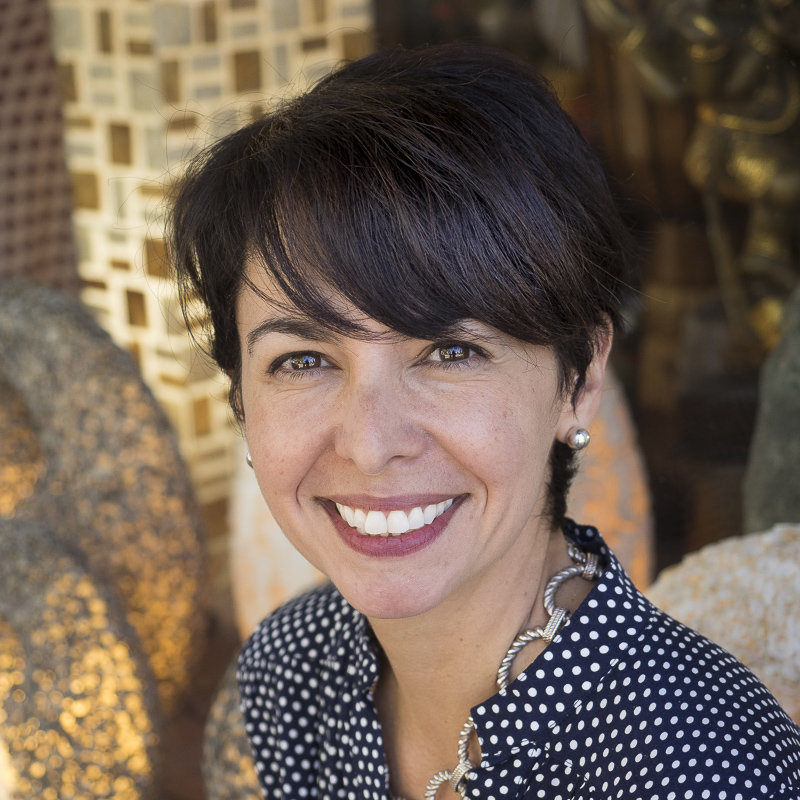 2018 Innovation Award: Danielle O'Leary
Danielle was nominated for her pioneering work in the completely new emerging market of commercial cannabis. Danielle's work made San Rafael a leader and model for other cities – most of which have enacted moratorium after moratorium as they try to figure out what to do. Danielle listened very closely to our City Council, as well as and our public safety departments, the City Attorney's office, Community Development, and more. She crafted an entire program which the City Council approved. She also was the driving force of putting a cannabis excise tax on the June 2018 ballot, which, if successful, will create a brand new revenue source for the City. Congratulations and thank you Danielle.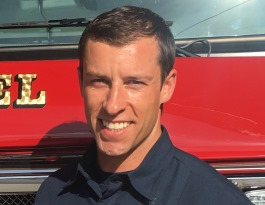 2018 Social Responsibility Award: Scott Preckwinkle
Scott has been coordinating multiple blood drive events per year for the past five years. Hundreds of people have participated and the blood and platelets obtained have saved lives.  Scott has also been an active participant in the Sonoma Valley Mentoring Alliance called "Stand By Me" and has participated in several missions to Mexico and Central America as part of Firefighters Without Borders. Scott was promoted last year to Fire Engineer, where he has excelled in this challenging position. Scott sets a great example in fulfilling our mission to help wherever he goes. Thank you and congratulations to Scott.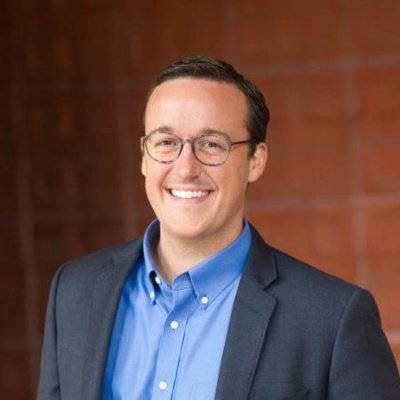 2017 Dean Allison Award Recipient: Andrew Hening
Andrew is passionate and excited about his work with the community.  Whether he is talking to a State Senator, a frustrated business owner, or a person experiencing homelessness, Andrew has the same contagious optimism and positive spirit that builds trust.  He is warm and genuine in his interactions with the community and is constantly seeking solutions that work for all the stakeholders.  Andrew's efforts in collaborating with community partners and persistently working through complex issues toward meaningful outcomes that will address homelessness and housing needs in the San Rafael community are worthy of this special recognition.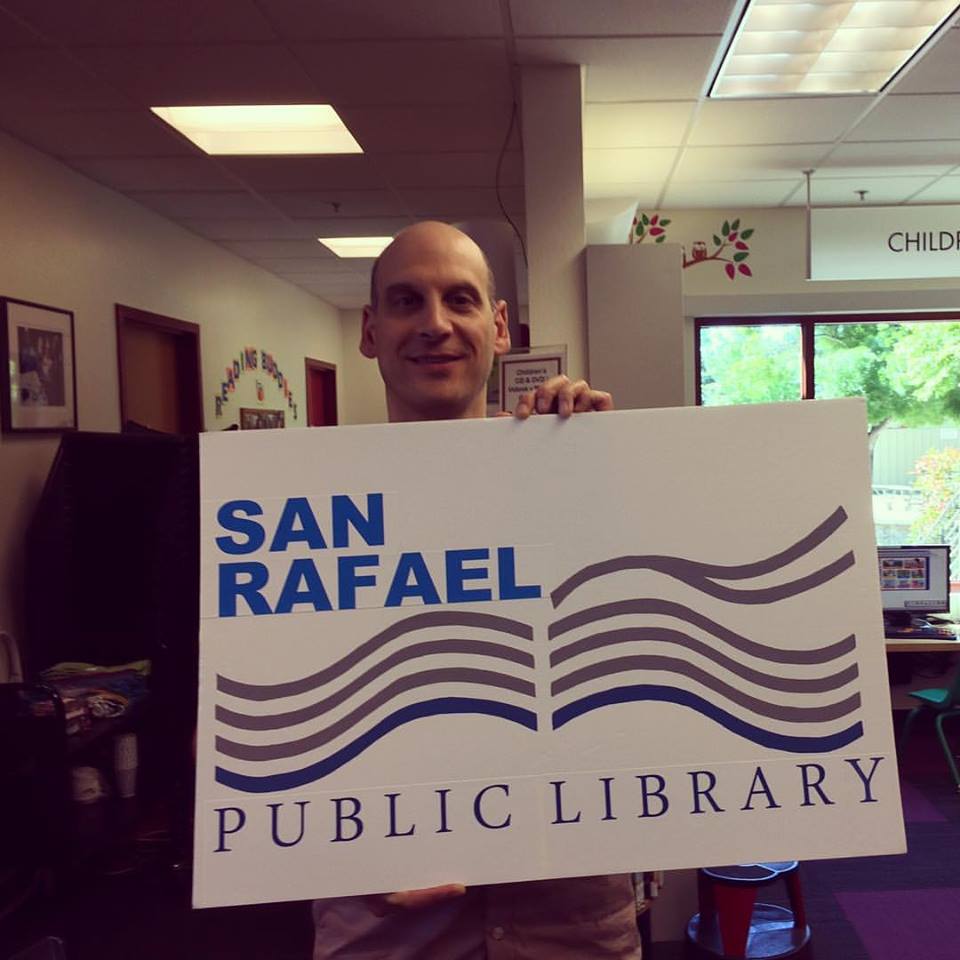 2017 Inny Award Recipient: Josh Alperin
Josh came up with a brilliant idea to implement a "Reading Buddies" program at both San Rafael libraries for early reader support.  Research shows that children that do not read at grade level by grade 3 are four times more likely to leave high school without a diploma.  The program pairs students in 1st to 3rd grades with an adult or teen volunteer for 20 minute appointments where the child can practice reading with their Reading Buddy one-on-one, and receive help and guidance. Volunteers are available in both English and Spanish.  Dozens of students get help every week and parents, students, and volunteers have reported great success in student reading improvement.  The Reading Buddies program will have a lasting impact on the San Rafael youth for years to come.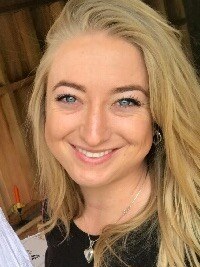 2017 Inny Award Recipient: Christine Foster
Christine has spearheaded the adoption of Romulus in Public Works, the City's new Customer Relationship Management (CRM) system, and with it, has fundamentally changed how the public interacts with Public Works, and their perceptions around responsiveness and accessibility. Romulus recently recognized Christine as their single highest user system-wide in terms of number of responses to the community. DPW has heard nothing but praise for Christine's timely and efficient handling of issues and concerns. She also actively gets information out via the new website and NextDoor, which creates tremendous good will for the department and the entire City.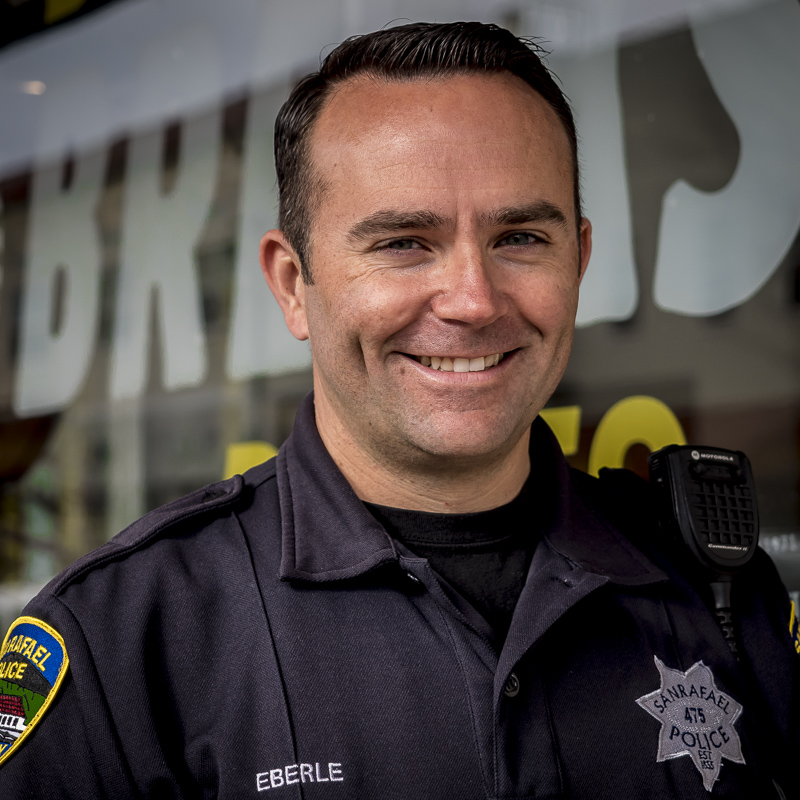 2017 Social Responsibility Award: Scott Eberle
In appreciation for going above and beyond by taking the lead to address Human Trafficking by working with numerous public and community based organizations.  Scott has helped organize several "sting operations" in cooperation with other Marin County law enforcement agencies at local hotels to arrest prostitution customers and assist women who are victims of human trafficking on a broader scale.  Scott also led Marin County law enforcement efforts in "Operation Cross Country," the FBI's nationwide effort to assist underage victims of human sex trafficking.   Scott's efforts demonstrate social responsibility in San Rafael, Marin County and nationally.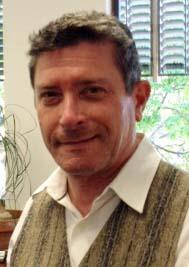 2016 Dean Allison Award Recipient: Paul Jensen
Paul routinely resolves permit applicant issues in a way that works for the city and makes the person walk away feeling heard.  His work on coming up with a plan to address wetland mitigation at the new Fire Station 57 fits the bill perfectly for finding a win/win solution for the County and City. Paul worked with the community along the SMART tracks to remove bureaucratic hurdles and create a new simplified way to add fencing. In order to foster more cross departmental collaboration, Paul willingly gave up an office in Community Development so that Public Works staff could use it whenever at City Hall. Paul noticed an issue with family day care where they were getting bounced around State and City requirements – he worked cross departmentally, assembled a community stakeholder group, and found solutions to work for all. A fellow employee wrote about Paul: "Paul has an ability to step away from the typical bureaucratic response to any issue and use common sense and logic to develop fair and equitable outcomes, without compromising integrity."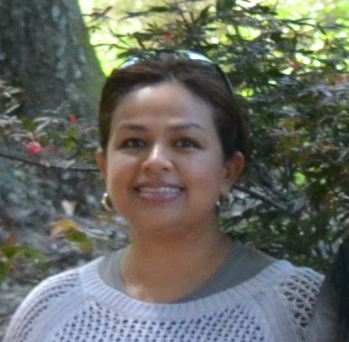 2016 Dean Allison Award Recipient: Alejandra Barrios
Alejandra Barrios lives and works in the Canal neighborhood of San Rafael. As a Library Assistant at the Pickleweed Library, a lean-running library with only 3 FTE staff, Alejandra wears many hats. Someone needs help finding a book? No problem. A high school student got a scholarship to Sonoma State but has no transportation there? Alejandra will help find a way. Need an extra hand facilitating a music program for kids? Alejandra is there. First Five is holding a workshop on improving services to the Spanish-speaking community? Alejandra will fight whoever she has to in order to get there. She listens intently to the needs of both her colleagues and the community and works hard to find a solution that works for everyone. She helps wherever and whenever she can, often going above and beyond the call of duty in the name of public service. Alejandra is one of the most sincere, kind, and generous people I've had the opportunity to work with and the City is lucky to have her serving our community.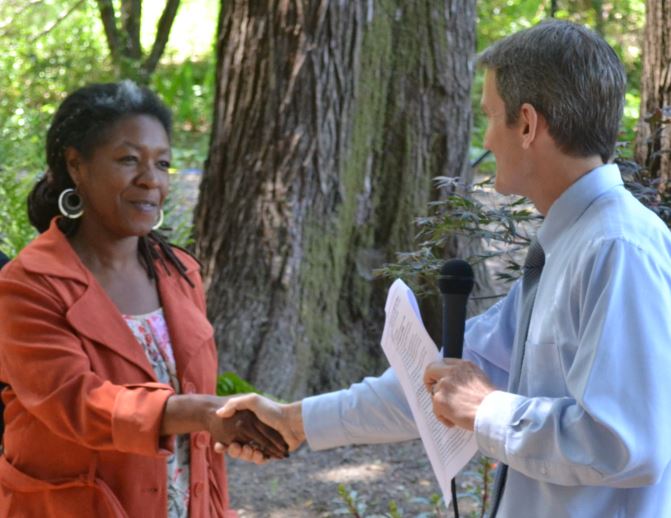 2016 Inny Award Recipient: Lashalle Lyons
Lashalle Lyons has worked for the San Rafael Public Library for twenty five years. As library services have changed, technology has morphed, and our community's needs have transformed, Lashalle has rolled with it and maintained an open approach to work and to encouraging new ideas and innovations among her team. One particularly notable example is the way that Lashalle lead the way in moving to a more efficient and effective staffing model for her division at the Downtown Library. After a workload analysis revealed a change in the underlying work in the Circulation division, Ms. Lyons recommended and implemented a change in how staff were allocated to better meet customer needs. As library users switched to using the self-check-out machines for most check-outs, more of the work moved to the "back of the house." Lashalle switched staffing accordingly, getting buy-in from her team and creating a fool-proof system for the front-line person to ring for help if the Library gets particularly busy. She implemented this change with diplomacy, sensitivity, and appreciation for the work of each of her team members. This change has allowed the Library to handle a 20% increase in material check-outs without needing to add any more staff. Amazing! Lashalle is always the first person to volunteer to try something new, attempt a different approach, always with our community in mind. She is the definition of a leader and mentor for her team and is indispensable as a member of the Library Leadership Team.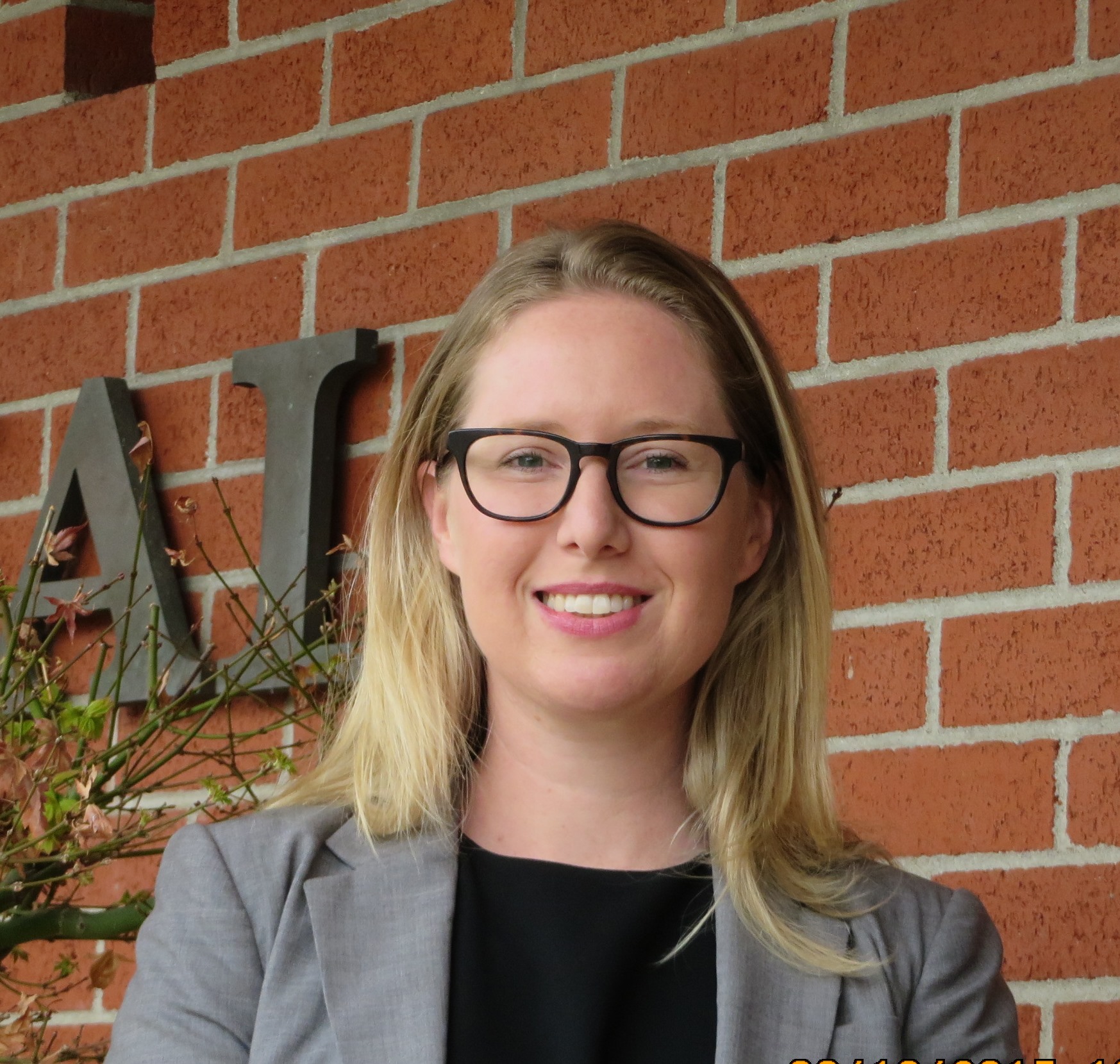 2016 Inny Award Recipient: Rebecca Woodbury
Rebecca has spearheaded the review of tools for a new website and customer relationship management project to modernize the face of the city and enhance the customer experience. Seeking to present a more innovative image, she initiated the redesign of the City's seal … it will not be long before we have a more modern look and feel for the City. Rebecca serves as our guru of social media - having single handedly launched the City into the Nextdoor platform. She leads outreach efforts for the public safety center – and has creatively produced brief videos narrated by Chief Gray which have been well received by the community. She also led numerous pop up workshops to "go where the people are" rather than expecting them to come to City Hall (e.g., parking workshops at Biomarin lunch line, and 3 open houses for the projects at existing fire stations).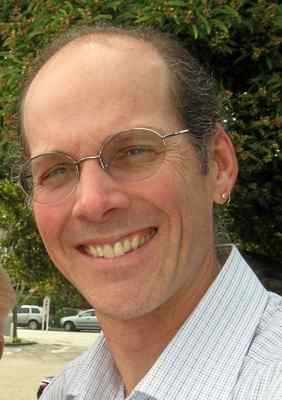 2017 Social Responsibility Award Recipient: Cory Bytof
In appreciation for regularly going above and beyond to volunteer and show a commitment to give back to community.  The way Cory's position has morphed the past several years it is difficult to clearly see where his work ends and where he, as a socially responsible member of the community, is volunteering to make San Rafael, Marin County and the world a better place for everyone and generations to come.  Whether social issues in diverse communities, or environmental issues, Cory is always willing to provide his expertise to those willing to get involved.  His nights and weekends are no longer sacred with the variety of meetings and events that vie for his attendance. Cory is a role model and very deserving of this social responsibility award.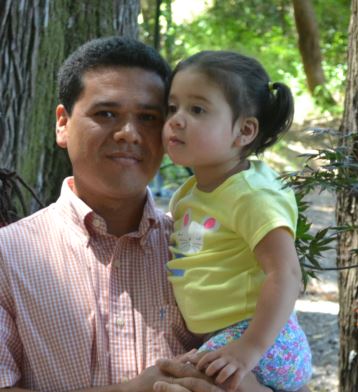 2016 Social Responsibility Award Recipient: Angel Landaverde
Angel is an outstanding example of understanding the term community first and goes above and beyond to serve not only that department, but the community at large and expanded community in order to best help others.  Whether it's through CERT, Get Ready (Spanish and English), 'Fill the Boot' for muscular dystrophy or his inspiring work leading missions abroad with Firefighters Borders Without Borders, Angel is a true humanitarian and terrific Public Servant. Angel's work regarding emergency response and preparedness has made a significant difference in our diverse community. He has initiated fundraising efforts coordinated training and educational activity and served as an ambassador for the fire department and city is even done some work with the news to help with translation everything from sea level rise to fire safety education.