The Last Big Move into the Public Safety Center
This Saturday marks the final push of moving equipment and services into the Public Safety Center as our team relocates Police servers from City Hall to their new home in the Public Safety Center. Services including the Police Department's Computer Aided Dispatch system (RIMS) and the technology that supports squad car connections to the Department of Justice will be relocated on Saturday morning in coordination with the Police Department, Xantrion, and regional Police Agencies impacted by the move. While moving this equipment means that a majority of Police technology will be down, Dispatch telephone services will remain functional throughout the day. Once this move is completed our team will be focusing on continuing to support Police and Fire as they strategize and implement new technology projects for the building.
---
Digital Supports Move of Recreation Website to New Home
This past Monday the City bid adieu to the former Community Services website, LiveLifeLocally.org as part of a project to consolidate Recreation web services onto the main City of San Rafael website. The project, done in coordination with Recreation staff, included revising page navigation, the transfer of content onto the new website, and coordination with our website partners to ensure that visitors would be redirected to the right place if they navigated to pages on the old website. We are excited to move closer to having all City information available in one place to make it easier for the public to find the services and information they are looking for.
---
Canal Wi-Fi Project
Last week we were able to launch another portion of the network along Larkspur Street. AT&T is working to finalize some circuit work to support the root access points we've installed, these points will provide connectivity to the access points installed along Canal, Novato, and Fairfax Streets. Our team will continue working to bring the remaining streets online in the coming weeks.
---
Cybersecurity Awareness Training
Since COVID-19, the US FBI reported a 300% increase in reported cybercrimes
We've all heard about the ways we can protect ourselves and our loved ones against COVID-19, however, with the increase in remote work and reliance on technology for communication and business continuity we also have to protect ourselves, our family, and technology from cybersecurity threats. We've seen a number of cyber-attacks and spam messages circulating, so it's important to be vigilant and educate you. Know how to recognize a cyber-attack, don't be the guy who clicks on the unknown link.
The County of Marin Information Security Team is hosting a training on Tuesday, October 27th from 1:30-2:30 p.m. to better prepare staff to guard against cyber-attacks. In this training we'll hear stories of lessons learned, and best practices for distance working and email security.
When: Tuesday, October 27, 1:30 p.m.
Where: Zoom or call (669) 900-6833
Meeting ID: 952 4994 3592
Password: 803153
---
New & Updated City Signage
Have you seen the City's updated signage? We've created several new signs in English and Spanish to convey safety messaging for our basketball courts, picnic tables, and bathrooms. The signs are mostly related to COVID messaging, however, with the ongoing fire threats and issued Red Flag Warnings the City opted to close the use of public barbecues, which triggered the need for a new sign 😉 Efforts to communicate safety messaging continue so our community stays safe and respectful of one another when they're using our park amenities.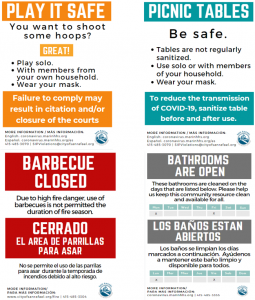 We're also updating signage and language online to clarify which City facilities and services are open for appointments and what services are available online. Since the beginning of the pandemic, many departments have found new and creative ways to support the community virtually, such as Community Development's Virtual Counter. Just as businesses are adapting to modified services and restrictions, we will continue to clarify communication and signage around adapted City services.