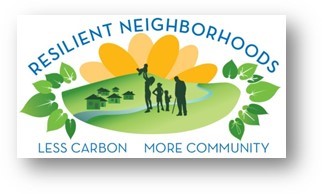 Resilient Neighborhoods and the City of San Rafael are partnering to offer Resilient Offices, a free five-session workshop series at which you will go on a "low carbon diet" to reduce your carbon footprint and get prepared for emergencies at home and at work. You will take simple actions such as trimming energy, reducing waste, conserving water, and choosing smarter transportation options that can save money, too.
More than 1,000 people have already reduced over 6 million pounds of CO2 pollution through Resilient Neighborhoods. This program is ideal for anyone who is concerned about climate change and has a desire to join with co-workers to create a healthier planet. All you need to participate is access to a computer and your utility bills.
We will schedule the five-session workshop series to start in March, to be held every other week over a 10-week period. Sign up on the online form, and provide your best availability to participate. The workshop will be held at City of San Rafael offices, outside of work hours (e.g., lunch time or end of day), and will be unpaid time. Yes, we will be providing food!
Questions?
Contact Dara Rossoff Powell, Dara.Powell@cityofsanrafael.org or Cory Bytof, Cory.Bytof@cityofsanrafael.org.
Learn more about the program at www.resilientneighborhoods.org.
Workshop Meeting Topics
Your Household Carbon Footprint & How You Can Help
Shopping, Food Choices, Zero Waste, and Water Conservation
Transportation and Home Energy
Emergency Preparedness and Building a Climate Movement
Celebrate your Results and Share Resources
Get to know fellow employees and sign up today! 
 Here's what past participants said:
"This program reinforces what we do in our daily lives and made me more aware of my actions. Resilient Neighborhoods was educational and fun."
– Van Bach, Accounting Supervisor
"My family and I made little changes to our daily lives that add up to measurable and track-able impacts to carbon reduction." 
– Jim Schutz, City Manager