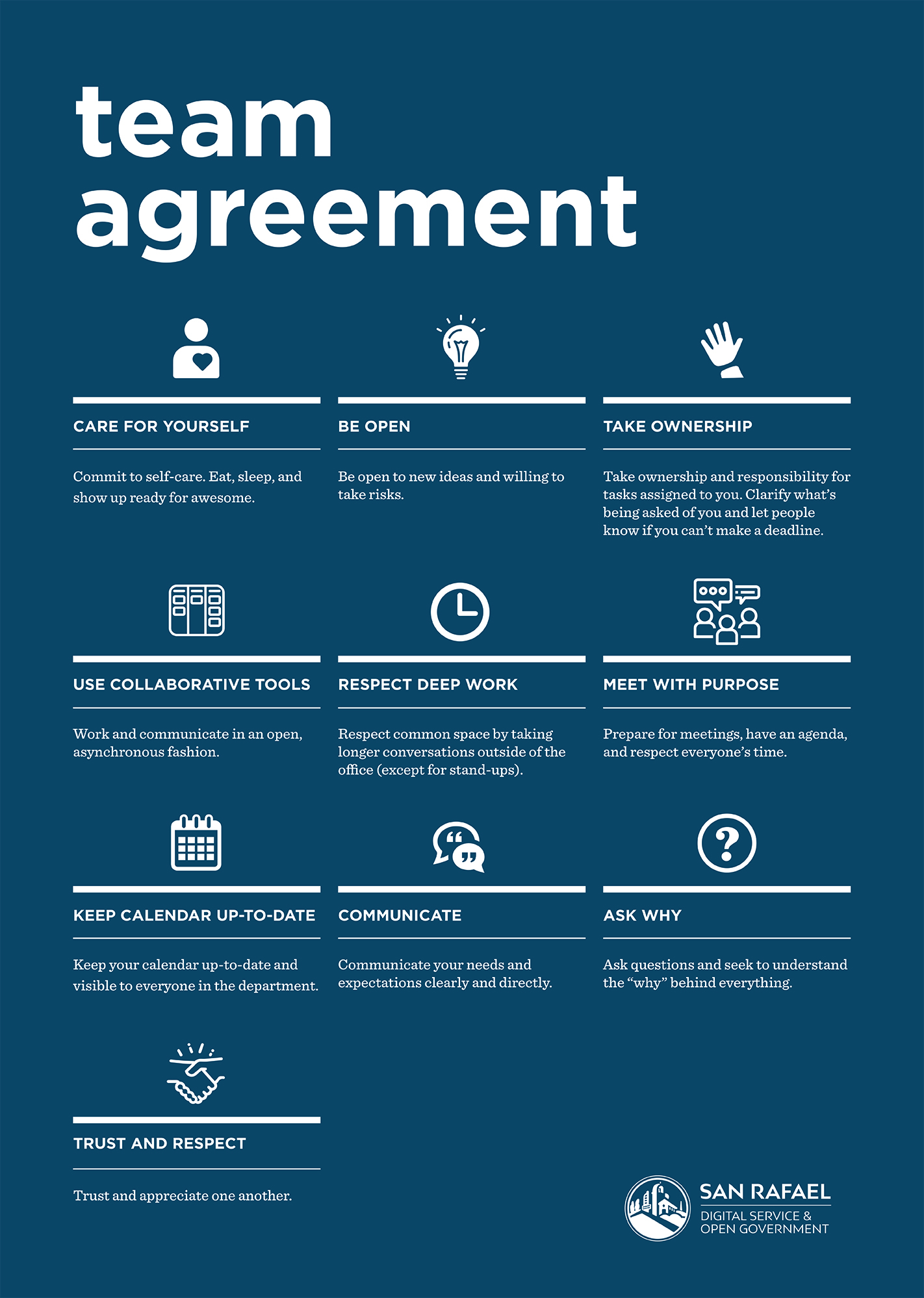 New Employee On-Boarding
On Friday, the Digital team spent the day re-imagining our new user orientation. We dusted off our checklist and brainstormed ideas on how we can better welcome new employees to their technology equipment and resources. 
Our draft vision: 
New employees feel supported and excited about their new job. They feel like Digital is a resource for them and are not afraid to ask for help. They get a tailored orientation based on their position. They are not overwhelmed, and know where to find answers to their questions. They are introduced to our organization's culture. 
We developed new prototypes for how we set-up new users in a more tailored fashion, how we convey information overtime instead of all at once, different ways to convey information, and how to socialize our resources and culture. 
We're excited to make these improvements to our process and work towards making our vision a reality! 
Bring

ing

 Human Centered

 

Design 

to Local Government
Last week we kicked off Learning Lab 3.0 and hosted two training sessions focused on applying Human Centered Design to government services. Learning Lab 3.0 has four cross-departmental teams working on Spanish-language engagement, housing, cross-departmental permits, and paperless forms. 
The second session, co-hosted with ELGL, was open to anyone working in government. We were joined by employees from the County of Marin, Novato, San Anselmo, Walnut Creek, and even as far as Stockton. Judi Brown, from CivicMakers, guided us through how to apply empathy, design, and iteration through an interactive and collaborative session. The events included a hands-on experience where participants developed prototypes of possible solutions to challenges we face. 
September

 2019

 All-Hands Recap
On Monday, September 30 we held our monthly all-hands meeting. A few highlights: 
The b

eta launch of the 

City's Street Sweeping Routes and Schedules Map

 continues to 

get

 feedback from residents and staff

 so we can make adjustments to meet the needs of our users. If you haven't already, 

check it out

 and let us know what you think!

 

We

 put a big dent in building out 

a

 

Product Management p

laybook

 on the employee website

 and we're super excited 

to 

use

 this

 

framework for service design

.

 

 

The team broke out into small working groups 

to 

continue 

to 

improve the New User Orientation.

 

Solutions were explored to fill i

dentified

,

 undocumented gaps 

in the orientation and setup process. 

We're

 making tools and resources for new (and existing) employees 

readily available on the employee website

.

 

New User Orientation page 

coming soon!

 

Sergio, Nate, Vinh, and Christine 

worked together to 

create

 Digital's new Team Agreement

.

 

Sean made it into a rad poster

 (see below)

 and

 Thomas 

at DPW 

printed it for us on the plotter

. Stop by and check out our walls sometime.

 
Deep Work
One of the elements of our new Team Agreement is to create time and space for "deep work." We all need dedicated time to focus on work without disruptions, so we created flags for our desks with guidelines to help ensure that we all respect each other's needs. 
TIPS​ 
Use 

a

 flag 

or sign 

to show your colleagues you are in "deep work

.

" 

 
Set your Outlook to "Do Not Disturb

.

"​

 

Block out time in your calendar for deep work

. 

​

 

Set call handling in ShoreTel to "In a Meeting" or make sure it is synced with Outlook

,

 so it sets to Do Not Disturb when you are in dedicated "deep work" time in your calendar.

 

Ignore incoming emails while you are focusing in "deep work."

 
HELP YOUR COLLEAGUES STAY FOCUSED 
Please be considerate of colleagues' effort to do focused work. ​ 
Check calendars before disrupting

 them

. 

​

 

Make team agreements with your team on how to handle deep work.