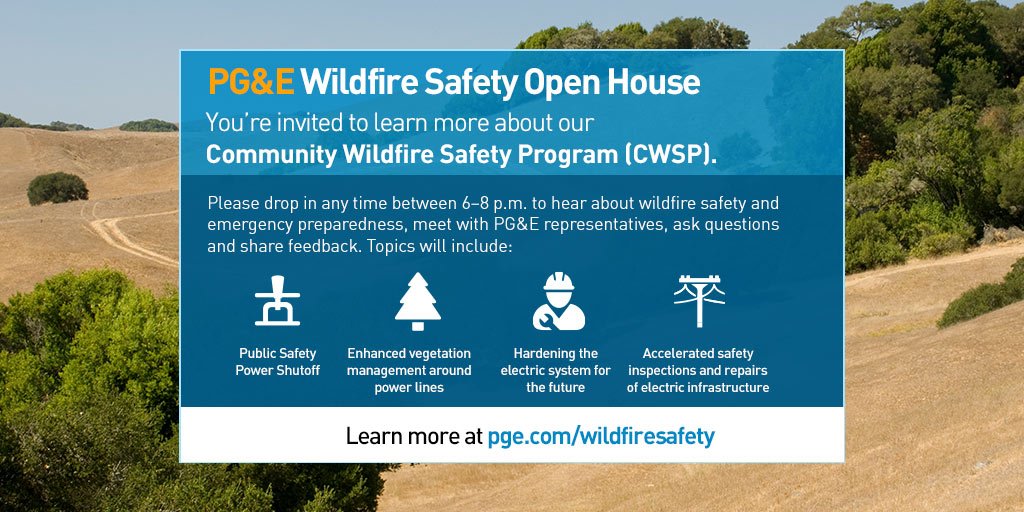 PG&E is hosting a series of regional open houses throughout our service area for anyone who is interested in learning more about the Community Wildfire Safety Program.
The open house is on Tuesday, July 30, 2019 from 6 PM – 8 PM at the Embassy Suites San Rafael, Mill Valley and Sausalito Ballrooms, 101 McInnis Parkway San Rafael, CA.
Topics will include:
Expansion of the Public Safety Power Shutoff program

Accelerated safety inspections of electric infrastructure

Enhanced vegetation management around power lines

Hardening the electric system for the future by replacing equipment and installing stronger, more resilient poles and covered power lines.
For those who are unable to join in-person, there will be a series of webinars focused on wildfire safety. A schedule of upcoming webinars and dates for future open houses is available at pge.com/wildfiresafety.
For any additional information or inquiries please call (800) 743-5000 or visit www.pge.com/wildfiresafety.