Did You Remember to Take Your Xantrion Today?
Change can be scary, but with a little Xantrion, anything is possible! As of Friday, November 1 Xantrion is San Rafael's tech support and they have hit the ground running. In a short period of time their tech support style is raising eyebrows and turning heads.
 "First call to Xantrion was successful and seamless, so far so good."
~ anonymous Public Works employee
"I am seriously optimistic."
~ anonymous Police Department employee
"They were able to fix an issue we've been dealing with for the last month; thank you."
 ~ anonymous Fire Department employee
 Our new tech support model:
Tech support is available 24X7X365.
For immediate issues just pick up the phone and call (510) 272-4701; Xantrion dispatchers will connect you with an engineer to resolve your issue.
Are you experiencing some technical difficulties but not really feeling like talking to anyone? Shoot an email to support@xantrion.com, you'll get a response within one business day, messages that are received outside of business hours (9AM to 5PM PST) are automatically converted into a ticket and assigned to an engineer for the start of the next business day.
Once your tech troubles have been turned into a ticket you can log into the Xantrion Portal, using your City login credentials, to track any open tickets. Super easy, super cute.
If You Didn't Know What a PSPS Was, You Do Now!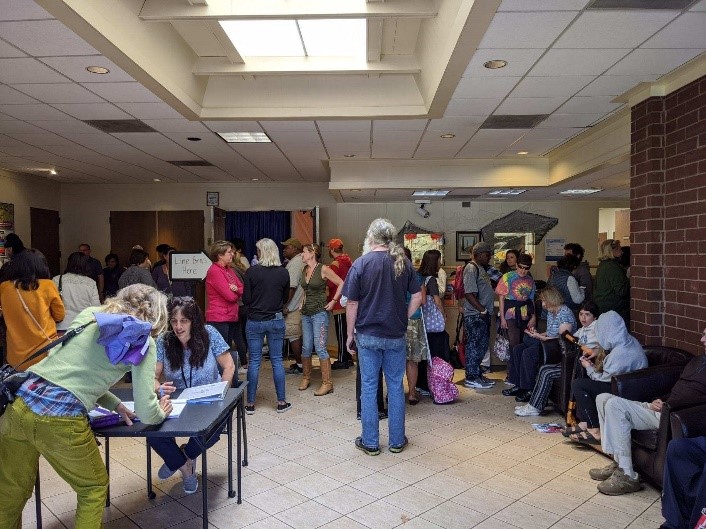 On Friday, October 25 we received notice that PG&E would be conducting a Public Safety Power Shutoff (PSPS) that would effect not only San Rafael, but the greater Bay Area as a result of strong wind predictions and active potential fire conditions.
In the weeks leading up to this event, our team built out a webpage dedicated to a potential PSPS. We used the City website, in addition to Nixle, Nextdoor, Twitter, Facebook, and Instagram to push preparedness content out to residents and business, and when the PSPS became a reality our webpage was activated and socialized.
Our Public Information Officer (PIO) team worked closely with the County team to ensure the updates we provided to our community were timely and consistent with other agencies.
With help from many, many employees we created several "Public Information Centers" throughout the City with printed posters and news releases, a call center, and multiple charging stations.
Thanks to generator power, team Digital kept most of our City facilities up and running in terms of internet, network access, and printing so City employees could continue to serve our community during this time.
Following restoration and the ending of our first PSPS, we have had several debriefs to capture our lessons learned. Debriefs organized by the Digital team included a PIO review, a Digital Service team review, and a larger meeting with the Citywide Community Engagement Team and staff members who worked at charging stations, public information centers, and the call center to discuss what went well and what can be improved regarding public communications surrounding the PSPS event.
While our lessons learned are MANY, here are the big ones:
Plus

"What went well"

Delta

"What we'd change"

·         Residents were thrilled and thankful for the charging stations (and wifi)

·         Coordinated locations for Public Information Centers with Library & Recreation prior to the event

·         Had a network playbook from previous outage at City Hall

·         Created a webpage with preparedness info in advance

Spent Friday getting ready; earthquakes don't give you 24-hour notice :/
Being in the joint information center, coordinating closely w/ the County
Getting out of the "EOC" bubble to see and feel what everyone was going through

·         Reached out to critical vendors (Xantrion, Comcast, AT&T, MarinIT, etc.)

·         Conducted health check of City Hall and Morphew network core

·         Emergency hotline and call center was easy to setup

·         Try not to change locations of things one information is publicized

·         Have Spanish-translation support on all PIO shifts

·         Provide more training on O365 to staff so we can better use Teams & Sharepoint during these events

·         Website crashed a couple of times briefly after Nixle alerts; exploring options to handle spikes in traffic

·         MailChimp mailing lists need to be audited and organized better

·         Day 1 of Call Center was a bit of a cluster but Day 2 we were more organized (thanks, Jamie!)

·         Weak cell signals made it hard to load pages with heavy graphics; use more text-based communication w/ public (use CPConnect, talk to Canal Alliance)

·         Coordinate with radio stations to disseminate info to public

·         5th & C St. signage was not utilized

·         Consider charging station in Terra Linda

·         Require battery backup on cell towers

·         Use the monitors in City Hall to display info
Lastly, we came out of this experience grateful to be working with such amazing people. The days were long and required a lot of pivots, but everyone came together and worked as a team.
November All-Hands Meeting
On Friday, November 8 Digital met for our monthly All-Hands meeting. With Xantrion on board we used this All-Hands to re-center our focuses and continue kicking the ball up the field. So, what'd we talk about?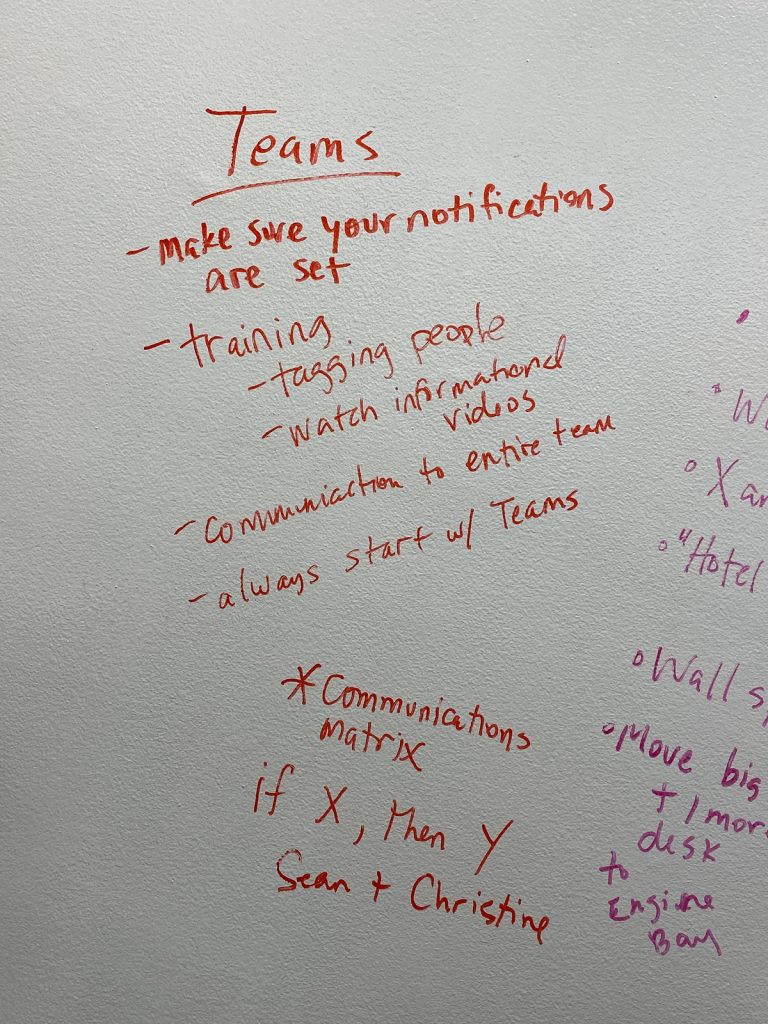 Stand-ups will become a daily check-in for us, we'll take 15 minutes or less to let the team know what we're working and update them on any pressing topics. Those who can't physically be there will remote in by video using Microsoft Teams.
Station 57 is almost ready for move-in; we're finalizing workstation set-ups and confirming that technology (there's a lot of it) is functioning properly.
Everyone should consider themselves a project manager, so we've set up resources, guides, and templates to be successful and supported on all our projects.
With the Engine Bay cleaned out (thanks to Vinh!), it has opened an opportunity for us to reorganize our desks and storage. We made a plan to better utilize our workspaces.
Microsoft Teams is one of the many O365 applications, and we're excited to start using it as our default communication tool. The team discussed how we are going to start using it for meetings and everyday communications.