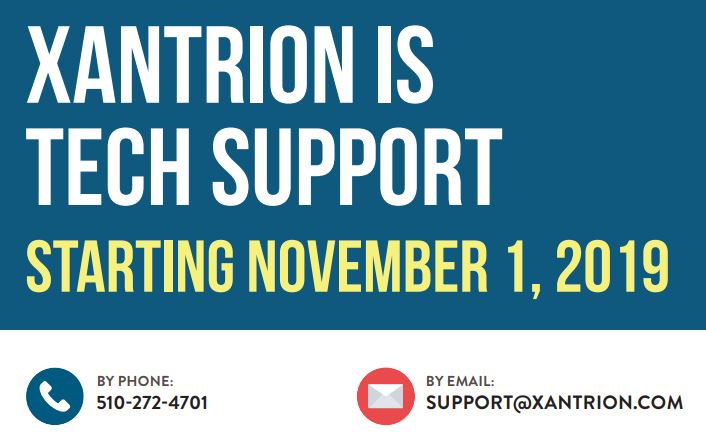 Xantrion; what the heck is that?!
Xantrion, the City's new technology support provider, specializes in outsourced IT services and cybersecurity. Their mission is to make effective IT more accessible to organizations like us. Over the last few weeks we've welcomed Xantrion team members Elaine, Jerry, Clark, Mike, and Marlon into our organization to get them up to speed on how things run around here in San Rafael. They are hard at work absorbing our processes and identify ways to improve issue resolution and response time, increase security, and save money over time.
Our onsite support will be led by Elaine and Jerry, if you see them, "say hi!" We are thrilled to have them on the team. 
Over the next week we will be providing departments with more information about the new tech support model. In addition, old tech support phone number and email will be forwarded to Xantrion so nothing falls through the cracks.
---
Gus Bush, Thanks for All You've Done!
As many of you have heard, Gus has announced his retirement. Gus was hired in 2008 and led the Information Technology Division during the difficult times of the recession, ensuring even during budget cuts that City departments got the support they needed. During his tenure in San Rafael, Gus led numerous technology improvement projects and upgrades to our network, applications, communication, and workstation environments.
What sets Gus apart from many other IT professionals is his compassion. He is a strong relationship builder and is always willing to help no matter the task. His demeaner is always professional and calming, even when everyone else is irrationally freaking out and losing their minds 😉
We are grateful for his dedication, commitment, and service to San Rafael and wish him well on his new adventure. Gus and his wife Michelle will be moving to the Seattle area to be closer to their daughter and grandkids. His last day will be Friday October 31, 2019.
---
PhD Student Studies San Rafael for Her Dissertation
Lígia Maria de Souza Lopes Reis, a PhD student from the Brazilian National School of Public Management, is visiting the Bay Area to research how the culture of innovation is developed in regional governments. She will be conducting interviews with staff members throughout our organization, in addition to the City of Oakland to support her work for her dissertation. During her examination of San Rafael and Oakland she will be "analyzing the phenomenon of innovation in government spaces in the US state of California, seeking to understand how different approaches contribute to the development and improvement of this culture."
Ligia attended the Learning Lab on Wednesday, observed, and had the opportunity to casually connect with a few staff members, as well as, Judi Brown, from CivicMakers.