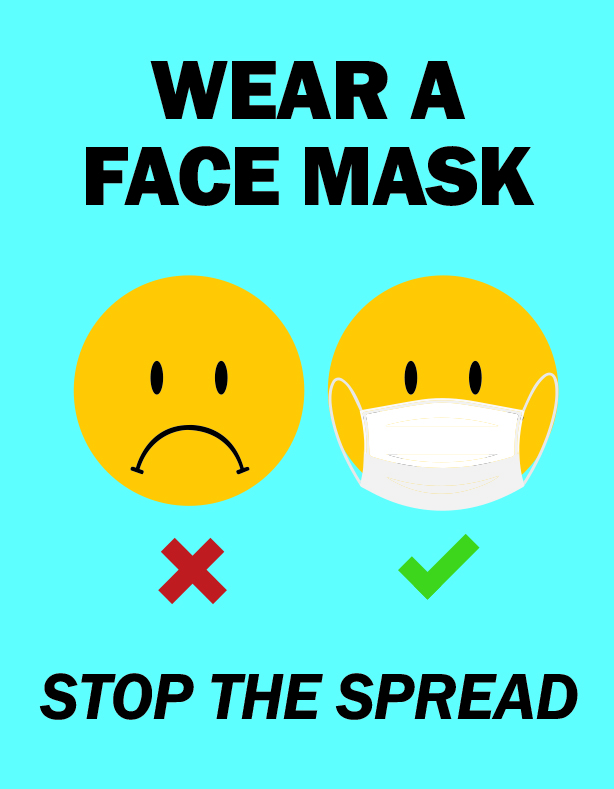 Wear a Mask
As positive cases and hospitalizations continue to increase, we continue to promote critical information to the community about the importance of wearing masks, staying 6-feet away from others, and limiting interactions that carry a risk of exposure to COVID-19.
We worked with Vice-Mayor Colin on a new "Wear a Mask" graphic and a catalog of posters for businesses to use. Special thank you to Danielle O'Leary for many of the business poster designs, and to Lucian Mooney for helping his dad design the new Wear a Face Mask graphic.  
We continue to push out regular updates to the community, covering topics like the San Quentin outbreak, schools, business reopening guidelines, testing, and more. 
---
Canal 

Wi

F

i

 

Network
All equipment has arrived, and installation begins soon. Over the past couple of weeks, we worked with DC Electric, MarinIT and the project partners to resolve some line of sight issues with the equipment. We've adjusted our design a bit to leverage two Canal Alliance properties. We are also working with the schools to pre-board all the Chromebooks that they will be disseminating to students so they automatically connect to the network. We have a live beta of the landing page that's currently being reviewed by our partner agencies.  
We're also working on a graphic to share the survey findings from a recent data gathering effort we conducted with Canal Alliance and San Rafael City Schools. We received almost 850 responses from people who live in the Canal neighborhood. Some of our findings include: 57% said they do not own a computer at home, 44% report that it's difficult to connect to the internet, and only 61% said they have wired internet access in their home.  
---
Technology Projects Move Forward in the Public Safety Center

 
Technology projects in the Public Safety Center are moving forward at a breakneck pace as we ready the building's network for the first phase of occupants from the Police Department Annex and Fire Station 51. With the network live we are continuing to test the system and are getting ready to build the redundant connections that will keep our public safety staff connected to the internet in the case of a service outage. We are focusing our other efforts in coordination with the Police Department and Fire Department for the move–in of technology and equipment at the end of the month. As with any move there are a lot of details to button up to make sure our Police and Fire Departments have everything they need including coordination with AT&T, Comcast cable, and the County of Marin to ensure all services are provided and ready on Day 1. 
---
Tech Support 
Last November, we overhauled our model for tech and network support by consolidating multiple tech support vendors to a single managed service provider, Xantrion. Since then they have worked to improve response times and faster resolution of issues.  
Tickets (open vs closed)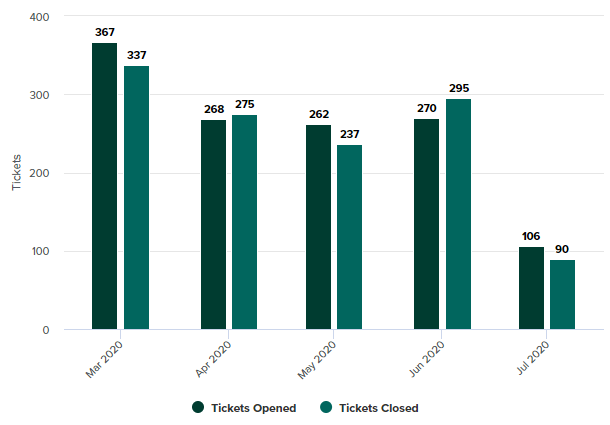 Customer Satisfaction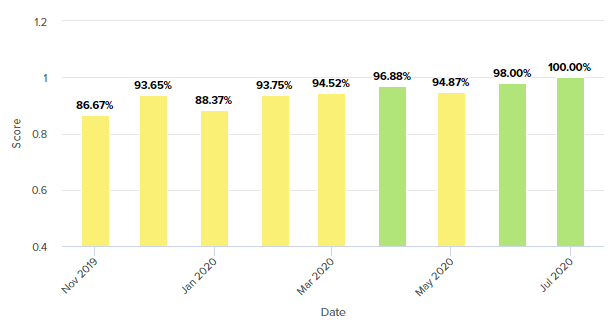 Xantrion continues to make our network and systems more secure and stable. A few highlights
from our work with them:
We stood up a remote desktop server that supports 95 users working from home with the ability to access their network files and common applications. We've started rolling out
multifactor authentication to everyone with access to the City network and are on track to have that deployed to all users by the end of summer.
We have a monitoring system now in place to detect early signs of identity compromise. Just in the last few months, we were able to detect three instances of attempted compromise and remediate them before any damage was done.
We worked with the vendor to rebuild the RIMs server for the Police department, which has stabilized the server and greatly reduced the number of times it crashes.
We have deployed new and improved antivirus, internet filtering, and email security measures, as well as comprehensive security patching for both our systems and
applications. Many Windows 7 devices have been upgraded to Windows 10 and security licenses have been purchased for the remainder. We now have daily offsite backups, which
improves our ability to recover from a potential security attack.
We rolled out a 45-min mandatory cybersecurity training recently and continue to push out information about potential security threats.
We've rolled out mobile device management to all public safety cell phones and are soon going to roll out mobile application management to anyone with an app on their phone that connects to the City network, such as their email.
Some of the projects that are in-progress or on deck include:
Analyze the City's approach to telephone services and develop a recommendation for the future.
Create an internal WiFi for the Police department to streamline their digital citation
process.
Replace all the public PCs in the Library with a better and more cost-effective solution.
Finally finish the employee directory project.
Deploy single-sign on for more applications to streamline the login experience and secure our systems.
Decommission a bunch of old servers and update a ton of old policies.