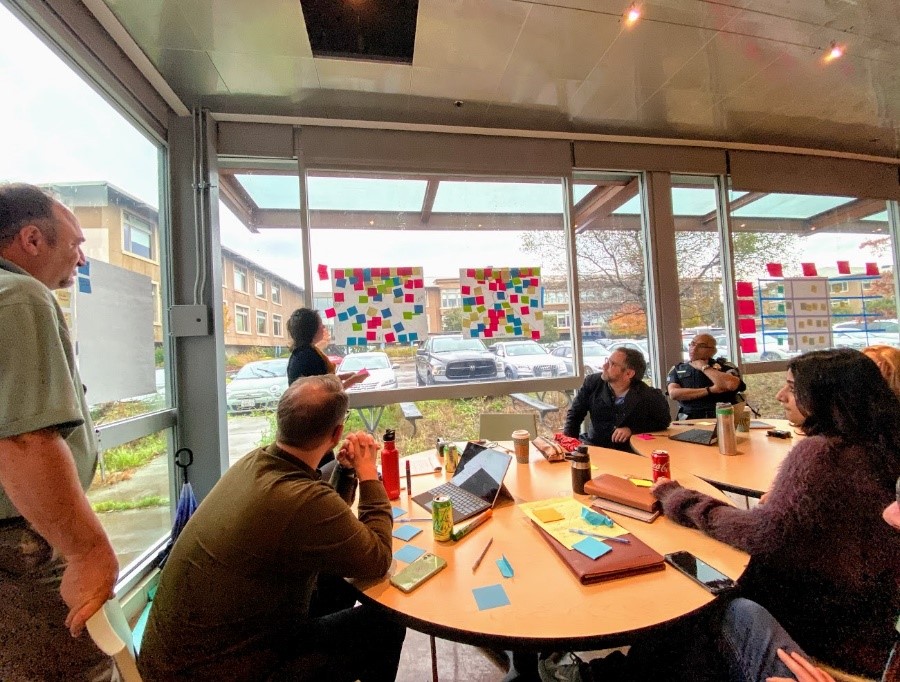 Visualize the Process
At this week's Learning Lab, our facilitator Judi Brown took teams through the process of journey mapping. Journey mapping starts by compiling a series of actions into a timeline. This involves taking a task, such as applying for a permit, and plotting the user experience. By creating this map we're combining two powerful instruments—storytelling and visualization. The greatest benefit of a journey map is the ability to better understand the perspective of the "customer" and then addressing their needs.
Another tool we learned about is empathy mapping. The teams working on housing and Spanish language engagement worked together to gain a deeper insight into the minds and experiences of people in our community impacted by the housing crisis. Mapping the various things people see, hear, feel, and do, helps us create a shared and holistic understanding of user needs.
We're Here to Help and This is the Best Way to Ask
We serve as a strategic partner to City departments helping achieve goals around community engagement, data & analytics, and the design of City services. When you would like our support or assistance, please fill out this form on the employee website. Just like you, we have a lot of projects and are constantly prioritizing based on their strategic importance. The earlier you engage with us, the better we can plan and manage our work load. For tech support, call (510) 272-4701 or create a support ticket. Please use this form for any other type of request, from help creating a flyer to designing a new permit system.