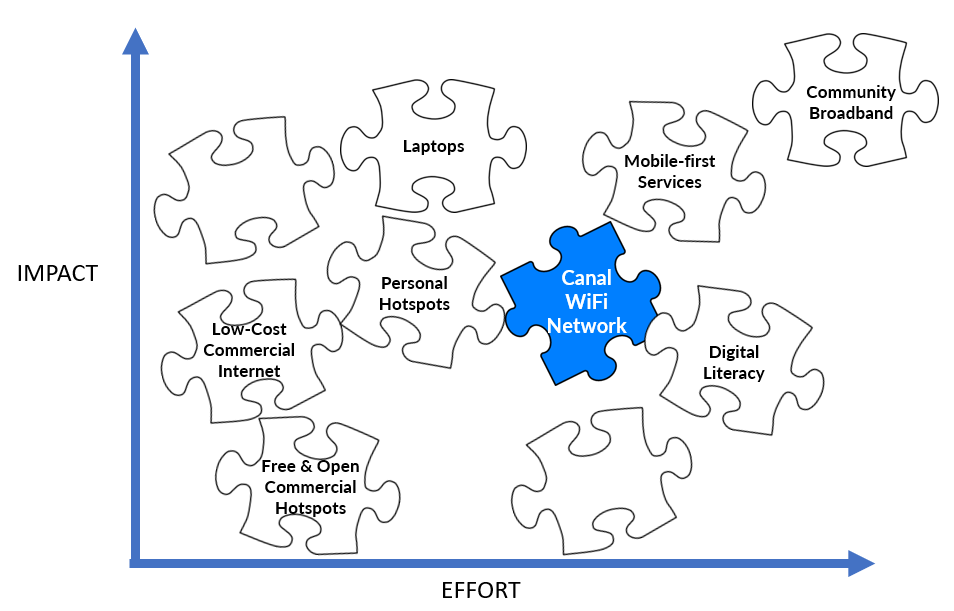 Snack & Learn: How to Get Stuff Done with Trello
Do you manage projects in your head? STOP. Trello makes managing tasks and projects easy, and, it's collaborative too, so you can keep your team in the loop (and delegate). Join us virtually on Tuesday, May 12 from 3-4 p.m. This training will be provided on Teams.
---
Canal WiFi Network
We've been working with several other agencies and organizations over the past couple of months on a variety of ways to increase internet access to students and other vulnerable populations. These collaborative efforts include the promotion of low-cost commercial internet programs and open hotspots, distributions of laptops and personal hotspots to students, and boosting the WiFi signal at the Boro Community Center. We've also made huge strides on a collaborative effort to create a WiFi network in the Canal neighborhood and shared the project with the City Council on Monday night. (Watch the Presentation | Read the Staff Report)
On Friday, Vinh and other members of the technical team took a site tour of the neighborhood to identify which streetlights we will use. Next week we will start purchasing the necessary equipment.
This is not just a cross-departmental effort, it's a cross agency and sector one. Jill Tokutomi and Gaby Farias from Library & Recreation are helping get user feedback and ensure that our next steps are informed by community needs. Working closely with the County of Marin, San Rafael City Schools, and Canal Alliance, we're getting close to finding all the funds we need for this first phase. This project also has been supported by incredible community volunteers who bring decades of network and technical design experience to our team.
---
EOC PIO Support Continues
There is a lot of information floating around out there, overwhelming our email inboxes, TV screens, smartphone notifications, and conversations with our friends and family. It seems like every day public information changes around food resources, the potential of reopening, and critical topics like rental assistance and COVID-19 testing. With all of this, the PIO team continues to work to deliver updates to the community that are timely and meaningful to the public without overwhelming them.
On Monday evening at the May 4th City Council meeting our Finance Department made a presentation to Council about the fiscal impacts the City is enduring due to the COVID-19 pandemic. We're working closely with Finance to display revenue loss estimates, projected revenue reductions, and expense reduction recommendations in a digestible manner to keep our community informed on the financial impacts the City is managing. This type of information can be complex and difficult to consume, so we've created graphs and charts to put our situation into perspective. The information will be live on our City website in the coming days.