Remote Work
Digital continues to support a largely remote workforce, while still providing critical onsite support for our safety personnel. We are now supporting a stable and secure remote desktop environment with multifactor authentication, that allows employees to access software and files on the City network. We've also seen an exponential increase in usage of O365 collaboration tools like video calls and file sharing and are supporting that through various trainings. Over 330 employees have completed cybersecurity training which has paid off as we've seen a spike in phishing attempts. In addition, we have rolled out new functionality to help support conference calling and are working to mask private cell phone numbers for staff using cell phones to call members of the public.
---
Digital Supports EOC with COVID-19 Messaging
"How are you holding up?" seems to be the new "hi" when greeting a friend, family member, or colleague. These strange times we find ourselves in have left many feeling uncertain, but our team continues to support the County's efforts by breaking down newly issued shelter in place orders, the evolving guidance around the use of parks, open space, and public sports facilities, and making the most of being at home; we're all navigating our way through this together.
In addition to our frequent email and social media updates, we are also helping the Mayor with a new weekly video series. Last week Mayor Phillips invited Supervisor Connolly, Pat Kendall and Dr. Kumar from Kaiser, and Jim to discuss the COVID-19 response efforts in San Rafael. Today's video covered face coverings,  Subscribe to the City's YouTube Channel to receive notifications when a new video gets posted.
Also this week, we created posters and flyers to help dispel myths and correct misinformation. These are posted and handed out at St. Vincent de Paul and this weekend will be handed out at food drives.
The response to our community messaging has been positive. Our email newsletter read-rate has doubled, and we are seeing an increased amount of social media interactions. Most online discourse is centered around the local economy and social distancing. Our Police Department's social media continues to generate a very positive response from the community.
Special thank you to Jill Tokutomi and Miriam Wallen from the Library for helping create content and social media graphics, and thank you to Jennifer Alcantara, Lidia Que, Theo Sanchez, Mireya Renteria, Elisa Vargos, and Larry Salvisberg for helping with Spanish translation!
Here's a little sample of what the City's Instagram looks like these days: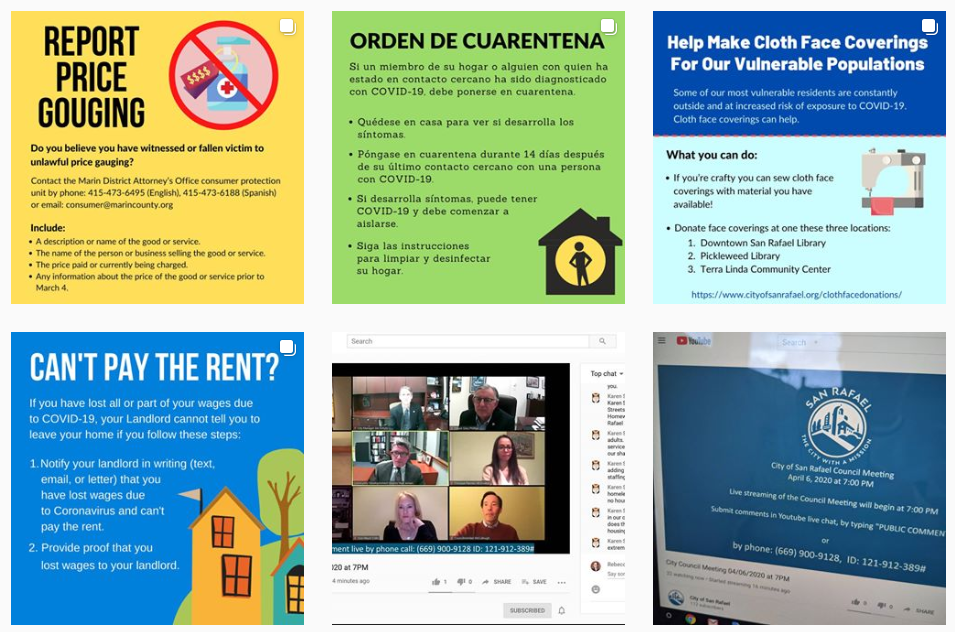 ---
Digital Forms & Services
There is a lot more to digital forms than just fillable fields. Our team is working with Human Resources and Finance to digitize their forms and processes so that we can keep these critical functions operational during these remote times. One down (telework agreement), the Families First Act Leave Request is being developed now, and a lot more to go after that. To do this work right, we're working to understand each form's lifecycle, data privacy requirements, approval process, storage, and retention.
For this project, we're so excited to be working with three volunteers from the U.S. Digital Response: Alicia Rouault, a product manager from 18F; Jared Luxenberg, a software engineer in San Francisco; and Nick Martens, a content strategist. They are volunteering their time to help us conduct user interviews, audit the exist forms content, assess our existing systems, and create a service blueprint for these critical processes.
Below is our synthesis of the data we collected in the user interviews we conducted, using a digital whiteboard tool called Mural: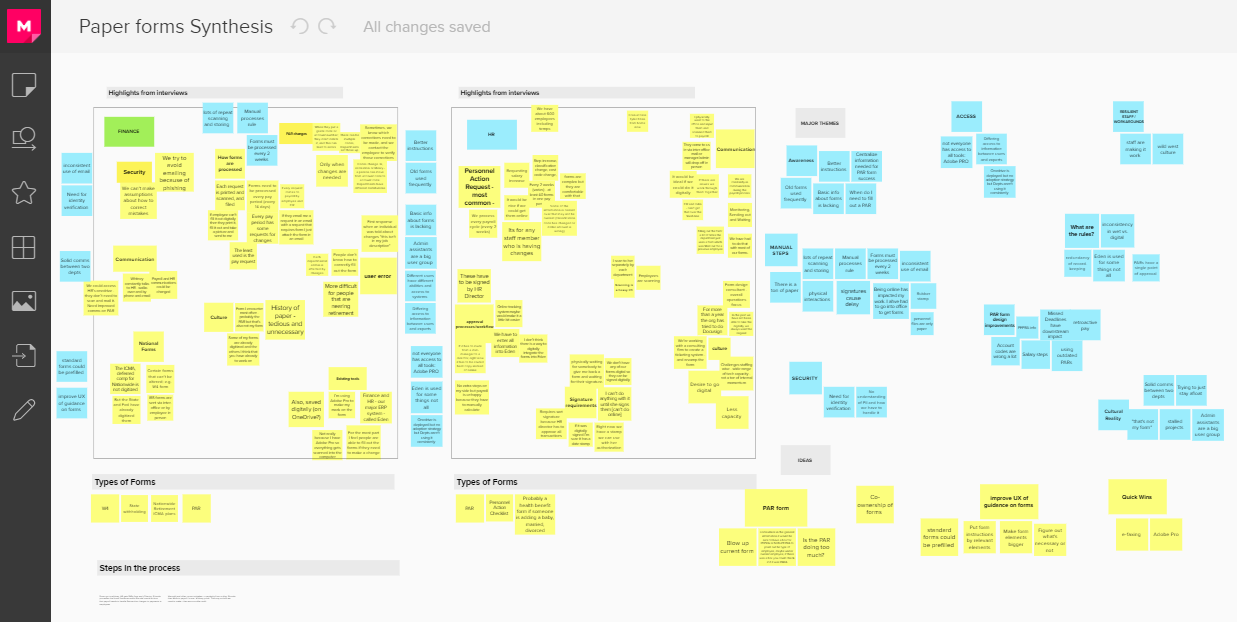 In addition to this, we are working with several other departments on ways to deliver services virtually, using video and other online platforms.
---
Canal Internet Access 
We continue to work closely with San Rafael City Schools and other community partners on expanding internet access in the Canal neighborhood. Earlier this week, we sent a letter signed by the Mayor, Vice Mayor and School Board president urging internet and telecom providers to increase the number of hotspots in the Canal neighborhood as well as remove time limits until June 15. We are promoting low cost internet services offered by Comcast, AT&T, and Sonic to the community in both English and Spanish, as well as the fact all the major providers have made hotspots open and free during this time. We have ordered 150 T-Mobile hotspots and will work with SRCS to distribute them to students without internet access at home.
We are also looking at other potential solutions for this neighborhood and are grateful for volunteer support from the community. Two amazing community members are helping with research and planning efforts for how we might create a student WiFi network. To help us with this work, Zak is creating a map of all the assets in the Canal neighborhood: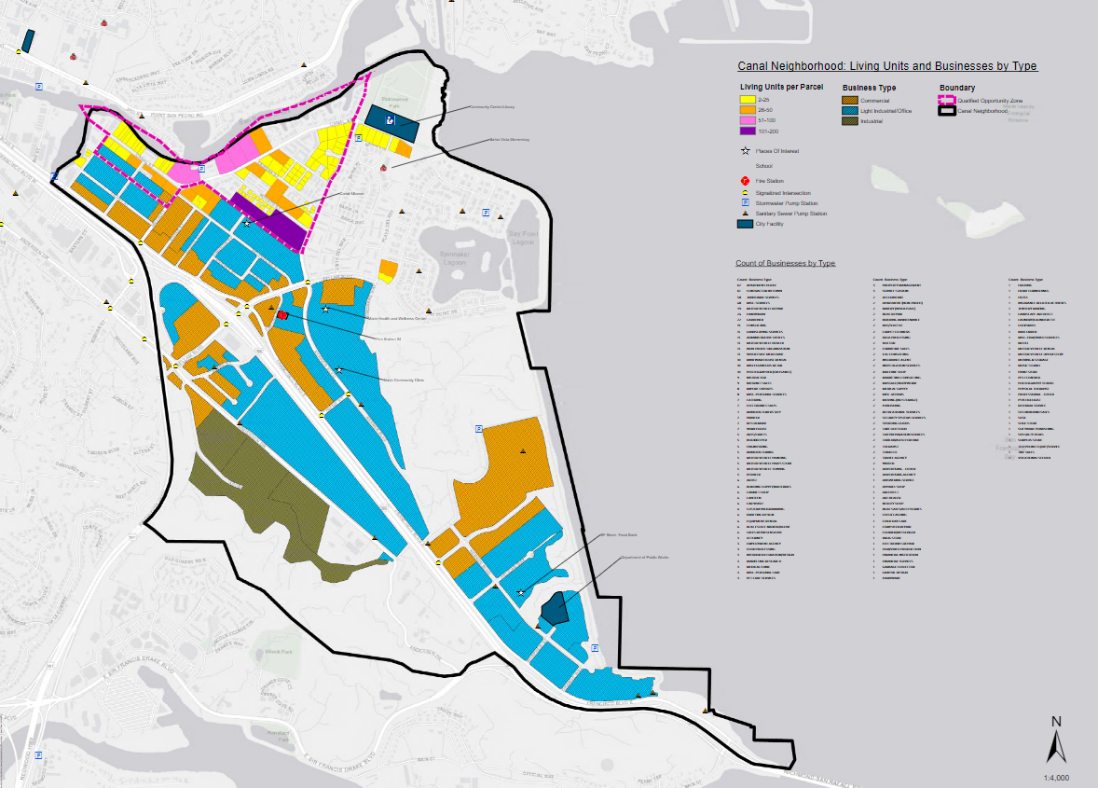 ---
Marcia, Marcia, Marcia!
On Monday, Lindsay conducted our second successful virtual City Council meeting! We've adopted Thomas Wong as an honorary member of Team Digital as he stepped in to help Lindsay while Vinh was out on paternity leave. For this meeting, video was introduced to the mix, allowing everyone to participate from their home or office and also to share a slide deck. Over the next couple of weeks, we will continue to work with Lindsay and Brenna on ways to keep improving this service.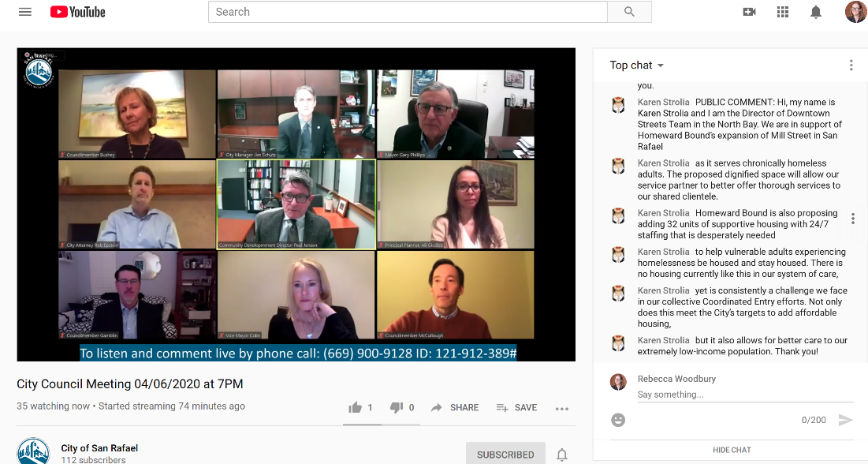 The best line of the night was Paul Jensen saying he felt very "Brady Bunch" after figuring out how to unmute himself. I think from the screenshot above, we can all agree.