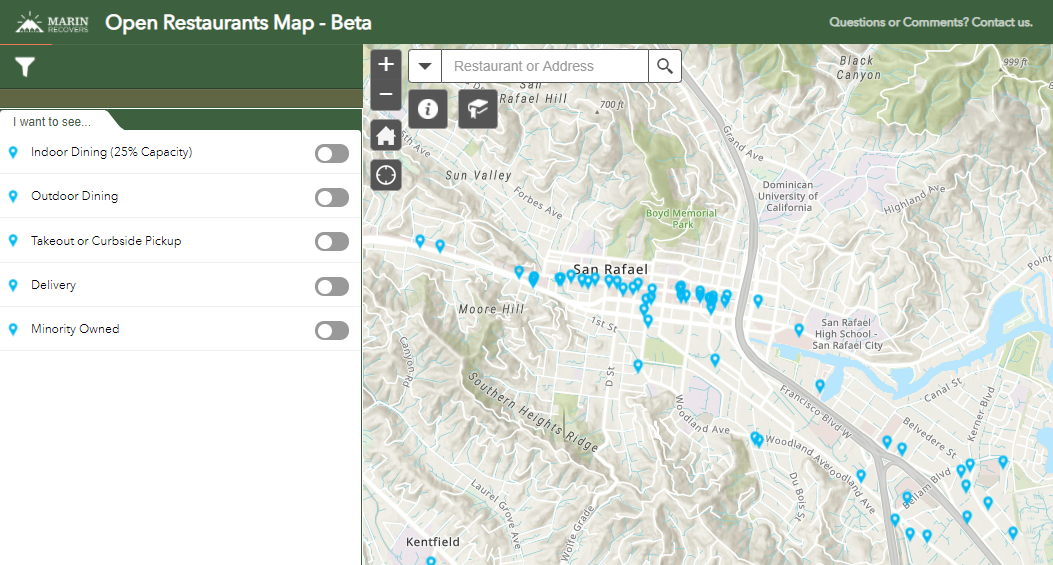 Esri Spotlights Open Restaurant Map
Last week Esri, the company that makes ArcGIS software and apps to combine mapping and data analytics, published an article highlighting our Open Restaurant Map., which we made using their technology.
The article, "San Rafael Supports Minority-Owned Businesses with Open Restaurants", highlights our effort to support minority owned businesses that have experienced disproportionate impacts from the COVID-19 pandemic.
Several restaurants across the County have been updating their listings to let customers know if they'll be offering indoor dining as Marin graduates tiers and restrictions loosen. The map has been doing very well—we've had 8,933 views since its launch in early June. That's an average of 62 views per day!
---
MIT Technology Review features Canal Wi-Fi Network
In late October, the MIT Technology Review covered volunteer efforts across the country who were working to bring wireless internet to underserved communities. MIT's article, "The volunteers blanketing cities with wireless internet" (paywall) calls attention to our work on the Canal Wi-Fi project, and the efforts of our Canal Outbreak Response team.
"In San Rafael, California, for example, the working-class neighborhood of Canal has one of the highest case rates for the novel coronavirus in Marin County, as well as some of the spottiest wireless access. Over the summer, a coalition of activists, government officials, and corporate sponsors scrambled to construct a brand-new urban mesh network in time to bring Canal's students to their virtual classrooms this fall. The new mesh, Canal WiFi, has since morphed into a multipurpose community platform, offering Canal's 12,000 residents' information in English, Spanish, and Vietnamese on everything from eviction protection to coronavirus tests to immigration support."
---
Xantrion Completes Public Safety Center Move
On Saturday, October 24th, the Xantrion team relocated the remainder of Police technology from City Hall to the Public Safety Center finalizing the major technology projects required for the transition of Police and Fire services into the new building. The move was completed without issues and our project team is excited to have successfully supported the construction team, Police, and Fire in building a resilient new home for public safety. As with any new home there will continue to be small projects and improvements and Digital will continue to manage and support our public safety teams as they adapt to their new home. In the meantime, this significant and final move puts a bow on the project for our team.
After many years of technology planning and design for Public Safety Center technology projects, our team was able to pull off all of the purchasing, configuration, moving, and installation of technology for the Public Safety Center during the COVID pandemic in a combination of remote meetings and on-site coordination. Our success is a true testament to the agility of a strong team, using digital tools, and asynchronous work to accomplish ambitious projects. Congratulations team!
---
We shall call them mini meetings
Microsoft recently released its latest feature—Virtual Breakout Rooms. Breakout rooms are a way to separate meeting participants into mini meetings, allowing for smaller group discussions, either randomly or by organizing them yourself. As the meeting organizer, you can choose which meeting participants are assigned to which rooms, and the number of breakout rooms.
Here's a short, five-minute video that gives a quick and simple overview of how to create breakout rooms. Looking for something more in depth? Microsoft created this informative video, about 15 minutes, explaining breakout rooms, what they're good for, and how to create and manage them; plus, they cover features most useful in Teams Breakout Rooms, including one feature called "Together Mode" 🙂
Check it out and give your Digital team a call if you need support utilizing this new feature.