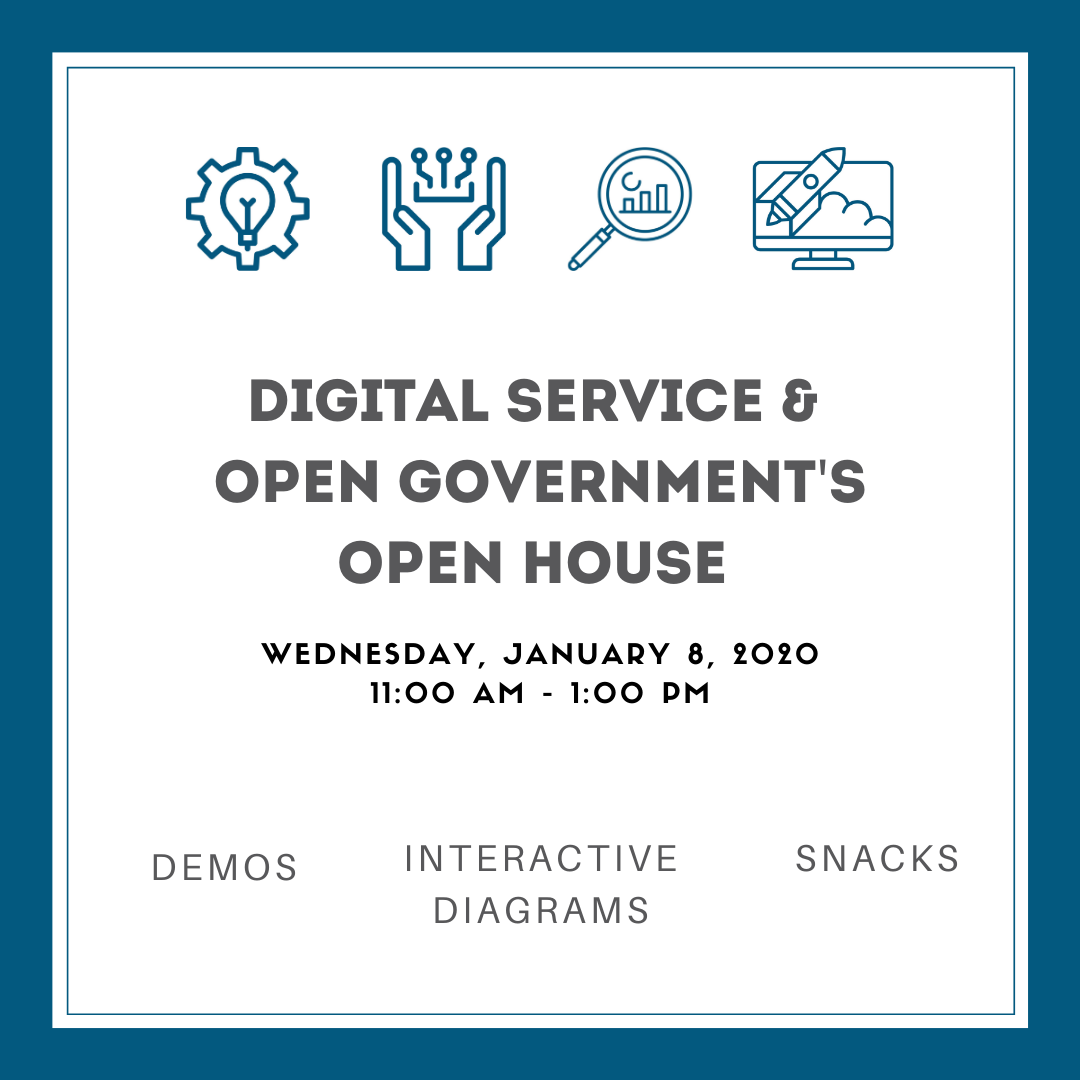 Digital Open House on January 8
Drop by room 207 in City Hall (aka the Enterprise) anytime on Wednesday, January 8 from 11 am to 1 pm for an open house. We are excited to share interactive demos and displays of what we've been working on for the past year and THERE WILL BE SNACKS.
Can't make it? We'll be streaming via O365 Teams, so you can take a peak and say hi 🙂
---
Let's Make O365 Awesome
O365 is our most commonly used enterprise system across the organization. We use it for email and calendars mostly, but it also has the potential to do so much more. Through it we also have access to cloud-based file storage, video conferencing, online forms and workflows, team collaboration and communication tools, and more.
Digital is currently looking for a partner to help us make our O365 environment awesome. We've started reaching out to potential vendors to help us create an adoption strategy and training program so that employees are empowered by the applications O365 has to offer. We hope to identify a consultant by mid-January and get started on this in February.
---
2019 <3
I am super proud of our team after our first year as a new department. Rather than talk about our accomplishments (you can come to our Open House to learn about those), I want to share some thoughts about what we're building together.
Jim's vision for this new department is bold, and bold moves like this are going to take government to the new places it needs to go. It's inspiring to be part of an organization that embraces change and takes risks.
It takes a lot of amazing people to be this bold. I want to express gratitude to our City Council for their trust and their expectation that we continuously challenge the status quo of government. I appreciate the high bar they set because they also do it with so much compassion and respect. I also want to thank Cristine and Nadine – we are positioned well thanks to your wisdom, support, and creativity.
Randy said something the other day that I thought was cool: "We can model to other departments how change creates opportunities for making things better." Our new department has gone through an enormous amount of change in the past year. None of us are doing the same thing we were doing a year ago. We're all learning new skills and constantly challenging ourselves to rethink our work.
I am so grateful for everyone on the Digital team – each person brings so much to the table. Vinh brings kindness and a steady hand; he's patient, reliable, and thoughtful. Sean's passion for his work is infectious; he keeps us laughing and awake. Christine keeps us on planet Earth; she's candid, confident, and caring. Randy keeps things going and is always willing to help no matter the task; his smile and positive attitude brighten the mood. Zak's creativity forces you to think about things in new ways and he will always surprise you with a new talent that you didn't even know existed.
I couldn't imagine doing this work without these very cool humans.