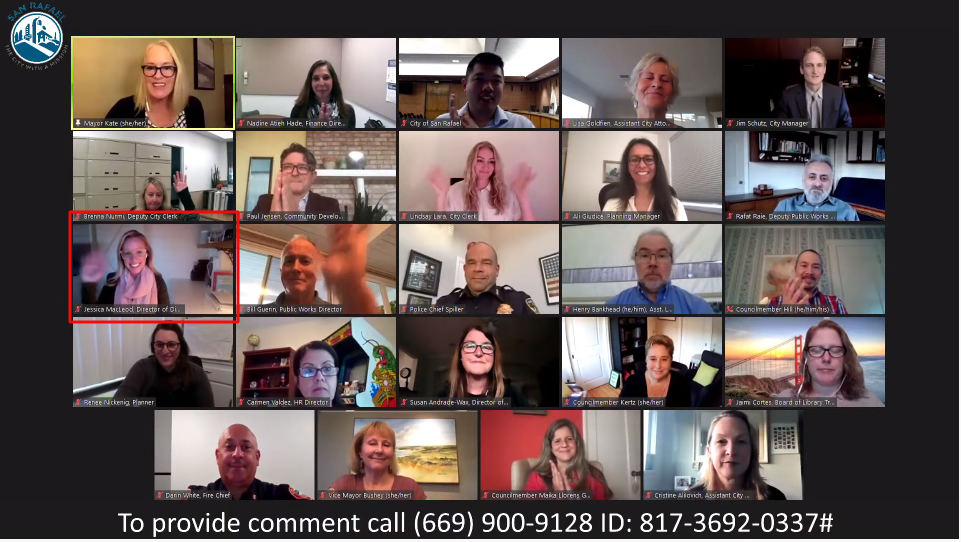 Welcome Jess!
Last week, Digital welcomed our new director, Jessica MacLeod! Jess has been busy getting situated, meeting with members of our organization and learning about the tools, workflows, and group dynamics of our team.
During Monday's City Council meeting, Mayor Kate, councilmembers, and other city staff joined in welcoming Jess to the organization 😊. If you see her around, say "hi!"
---
Save the Date: Solving the Digital Divide, Friday May 21st
On Friday, May 21st from 11:30 a.m. – 12:30 p.m., San Rafael will be co-sponsoring a virtual panel discussion with Canal Alliance, Digital Marin, and other community partners to discuss solving the digital divide. Panelists will cover the work of Digital Marin, internet service provider competition in Marin and servicing low income communities, and how other rural cities have taken on this challenge.
The event will be streamed bilingually, and audience members will be able to ask questions in real time—don't miss it!
---
Community Networks Borne out of COVID: Canal Wi-Fi
Community Networks highlights communities who are investing in their own Internet infrastructure to promote economic prosperity and improve quality of life among their constituents. They recently published an article, Community Networks Borne Out of Covid-19 Continue to Strengthen and Expand, spotlighting our work on the Canal Wi-Fi project.
Back in September 2020, Community Networks hosted Digital's former director, Rebecca Woodbury, and Air Gallegos, Director of Education and Career for Canal Alliance on their Broadband Bits Podcast to discuss the efforts behind this project—did you miss it? The episode is available online 😊
---
First Floor of City Hall Nearing Completion
Over the last several weeks Public Works has been working with contractors to complete the renovations underway on the first floor of City Hall. Work includes creating a pathway from the old dispatch to the restrooms/lockers across the hall, the kitchen renovation and an upgrade to our Digital Services office space. Last week contractors knocked down walls to create more usable space, this week new walls were restructured to redefine the space and painting is underway.
A big, big THANK YOU to Faby Guillen-Urfer who is pushing this project across the finish line, and to Omar Garcia, Anthony Heaven, and Michael Reiser from the Facilities team for all your hard work—we so appreciate you all!
---
New "Phishing" Button Installed in Microsoft Outlook
Have you been forwarding suspicious emails to Xantrion or just deleting them? You can now use the "Report Phishing" button in Outlook to block the sender and submit the message to Microsoft for further analysis. Microsoft use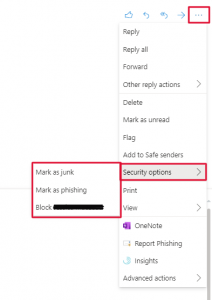 s these emails to further improve its email security product, Exchange Online Protection (EOP).
Why do I receive phishing emails?
Phishing emails are used by cyber criminals to target city employees into unknowingly sharing sensitive information or giving access to internal systems. To prepare city staff for these attacks, Xantrion uses the KnowBe4 service to imp
rove cyber security awareness and help users identify phishing and malicious messages.
Periodically, employees may receive test messages from the KnowBe4 service, to ensure staff are complying with cyber security best practices. If an employee receives a suspicious email, the best course of action is to use the "Report Phishing" button (shown above) and proceed to delete it entirely.
If you interact with a KnowBe4 test email, you can expect an email notification stating that you have just clicked a phishing link/attachment, and will be asked to watch a cyber security video, so you can better decipher and malicious email from a regular email.
---
Cybersecurity Spring Cleaning
Spring has sprung! As you de-clutter your homes and offices this spring, take some time to also de-clutter your digital lives. Update passwords, back up and delete unneeded files, and check privacy settings. Digital devices, including phones, iPads, laptops, kindles, and even televisions, cars, and baby monitors store personal data.
Email
Review all your email accounts.
Organize folders of emails that you want to keep, delete and purge emails that you no longer need.
Be sure that there is no personally identifiable information stored in your mailbox.
Review and update your contacts. Delete contacts that are no longer necessary or current.
Review and update email filters to send spam and unwanted e-marketing messages directly to trash or another folder.
Closing Accounts   
Close out old application or system accounts that you are no longer using.
Clean Desk
Shred old and unnecessary paperwork.
Ensure paper documents that contain personally identifiable information, financial information, or other sensitive information are properly stored and locked up.
Don't write down passwords or security answers on paper and leave them out.
Find more digital spring-cleaning tips with the help of the Center for Internet Security's spring cleaning checklist.