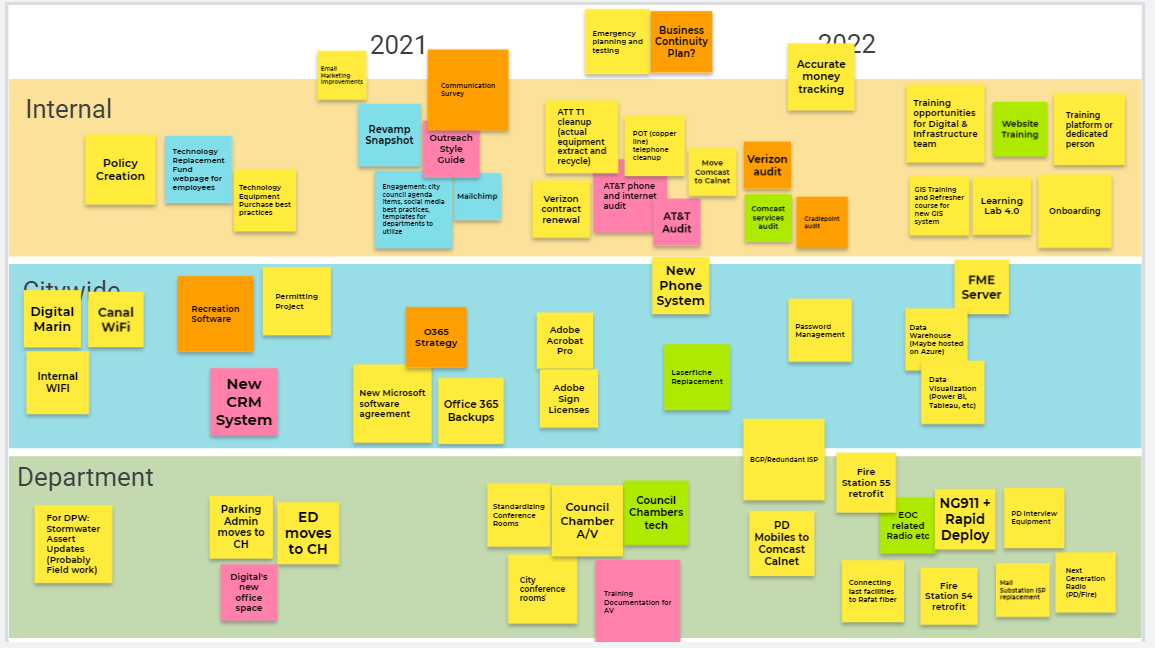 Digital 

Workshops

 

– 

New 

Approach

 to Budget Planning 

for Distributed Teams
In preparation for budget planning our team has started forecasting projects for the next fiscal year. Strategic planning with remote, distributed teams can be a challenge, but there are a number of digital tools our team uses to make collaboration work seamlessly. To help foster team contributions and share ideas in this workshop we used Google Jamboard, a tool that uses digital sticky notes to collaborate together in real time.  
Through this brainstorming exercise we have been able to identify potential internal, Citywide, and Department-specific projects that can be prioritized for the coming year and beyond. This exercise will also help document known challenges and opportunities for the incoming Director. 
There are a host of similar tools that City teams can use for this purpose including Mural, and Miro. Google Jamboard is free and can be used on tablets, smartphones, and even web browsers—try it out!   
---
Public Safety Center Audio/Visual projects m

ove closer to completion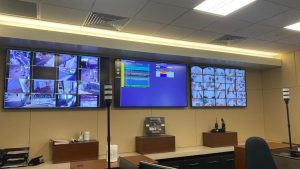 Over the past few months the Digital team has been working with Police and Fire to implement audio/visual technology projects in the Public Safety Center that weren't part of the primary construction project. This week our team worked with Xantrion and our A/V contractor WPCS to distribute video to our Emergency Operations Center (EOC) and Dispatch wall mounted monitors so they can access a range of video sources including surveillance cameras, RIMS computer aided dispatch, Fire Department Computer Aided Dispatch (CAD), Golden Gate Transit Center cameras, and Comcast cable. In the next few weeks we are aiming to wrap up the remainder of the projects including distributing RIMS and Fire CAD to monitors throughout the Police and the Fire Department respectively, conference room PCs that tie into A/V systems, and integrating a new PC solution into the EOC to control a variety of video sources throughout the room. 
---
Marin Academy students make their presentations
The Marin Academy students in this year's Transdisciplinary Leadership program are examining how city governments are utilizing data and technology to increase digital connectivity to respond to the needs of their community. The students were broken up into small groups to research topics like: 
Digital divide and equity

 

Post-pandemic public meetings – should there be a virtual component?

 

Public art and freedom of expression

 

Sea-level rise in east San Rafael

 
Last week, the students presented their findings on how city governments are leveraging data and technology to increase digital connectivity to connect with and support their communities. Check them out:  
---
Making City Mobile Devices More Secure through Authentication
Xantrion continues to work on IT projects that will increase the security of our City networks. With a significant amount of City staff working remotely and accessing the network from mobile devices its imperative that we can authenticate the identity of users accessing email, Office 365 services, and network files.  
Earlier this week Xantrion rolled out Modern Authentication for all City employees.  Microsoft Office 365 services will only accept connections using Modern Authentication.  The new method of authentication is more secure than the Legacy Authentication that is being disabled.    
What to expect?        
For most staff, the change should be seamless.  The only impact we expect is that a small percentage of users who use the built-in email apps on Android/iPhone/iPad may need to delete and re-add the email accounts.  
To prevent connection issues for mobile devices, Xantrion recommends you:  
Download the Outlook app from the Google Play or Apple App Store and setup your email account on the Outlook app

.  The Outlook app was designed for Modern Authentication and has more features than the native email apps.  Instructions are included at the bottom of this email. 

 

If you prefer to use the built-in email app on your Android/iPhone/iPad

, 

you can continue to do so

.  If email on your phone stops working on January 20th, you will need to delete and re-setup your email account on the native email app.  Xantrion will be on hand to help you through the process. 

 
Set up instructions for the DIY-er 
Contact the Xantrion Service Desk at 510-272-4701 or email them to setup an appointment for assistance setting up the Outlook app or re-setting up the built-in email app for Android/iPhone/iPad. 
---
Optimizing the Outlook mobile app
After you set up the Outlook email app in Outlook for Android or Outlook for iOS, you can customize the mobile app to stay connected and organized the way you want. Here a few tips and tricks to get you going: 
Set swipe options 
Customize swipe options to quickly take action on emails in your inbox. Customize the action of "swiping left" to delete, archive, or move the email to a different folder. 
Tap 

Settings 

> 

Swipe Options

.

 

Tap 

Swipe Right

 or 

Swipe Left

 and select an action.

 
Turn Focused Inbox Off/On 
Focused Inbox separates your inbox into two tabs—Focused and Other. Your most important emails are on the Focused tab while the rest remain accessible on the Other tab. Focused Inbox is on by default. 
Tap 

Settings

.

 

Scroll down to 

Focused Inbox

, then tap the button to toggle the setting.

 
Learn more about changing your calendar view, customizing your app notifications, and more.