Emergency operations public messaging has settled into a regular rhythm after a year of adapting to the changing landscape of COVID-19. Our team continues to collaborate with the County of Marin, community partners, and regional agencies to synchronize COVID-19 messaging to our community. The response to our community messaging has been positive. Our email newsletter read-rate remains strong, and we continue to see an increased amount of social media interactions. 
By the Numbers: 
531,413 

Opened emails 
City Coronavirus Updates
(March 16, 2020 – March 4, 2021) 

23,907

 

Views to the San Rafael
Coronavirus Webpage
(March 4, 2020 – March 4, 2021) 

80 

Coronavirus Email Updates  

sent out to our community
(March 16, 2020 – March 4, 2021) 

439,222

 

Impressions on Nextdoor 
Coronavirus Posts
March 16, 2020 – March 1, 2021 

30%

 

Increase in Social Media interactions
Feb. 1, 2021 – March 1, 2021 

170 

Coronavirus-related 
Social Media Posts
(Feb. 27, 2020 – March 4, 2021) 
Regular updates are being made to our Coronavirus webpage, including: 
COVID-19 testing resources

 
Special thanks to Jill Tokutomi from Library and Recreation for rejoining the PIO team and refreshing our COVID-19 graphic design messaging—we appreciate you!
---
Maps & Apps for Vegetation Management
Digital has been working closely with the Vegetation Management team on a suite of maps and applications to help plan, track, and report on various vegetation management projects.    
The Vegetation Project Management Web application will be used our Vegetation Management team to track project areas and work done in City owned open space, this includes projects like fire road grading, tree trimming, brush clearing, and goat grazing. This tool will help the team plan and budget for future projects, as well as evaluate the effectiveness of different treatments over time.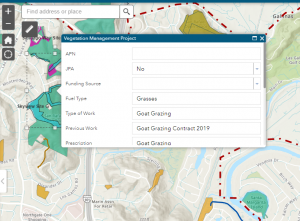 Survey123 is a mobile application that staff can use on a tablet or phone in the field to gather data. The data can be viewed and edited back at the office through a web map in real time. The two apps created for vegetation management allow for identification of residential roadside areas that need tree or brush trimming, and sites for designated parking spots on narrow roads.   
Collector is a mobile application for contractors who are doing the clearance and trimming work. They can use the app to find designated work areas and check them off as the work is completed.  
Special thanks to Vegetation Management team members, Gavin Albertoli and Kate Anderson for working so diligently to get these tools out into the field!    
---
Using Bookings to Engage with Customers
Community Development, Public Works, and Fire Departments have been exploring more effective and efficient ways to support their customers seeking to schedule virtual appointments or inspections. We've recently started piloting a Microsoft application called "Bookings", an online appointment booking and scheduling tool, which is also available as part of our Office 365 subscription. We're actively testing out the platform to familiarize ourselves with Bookings' features before releasing it to the public.  
Some of Bookings features include: 
Text message 

notifications

 to residents

 

Buffer time between 

scheduled appointments to allow for travel time

 

Fully customizable branding options

 
Residents will be able to visit a booking page whenever they want, book the time and service they need, get a confirmation email and calendar invitation, and reschedule or cancel if they must.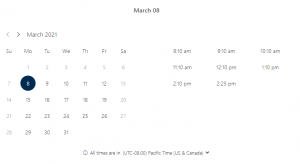 ---
Increasing 
Password Security for City Staff
"123456," "Password123," and "qwerty," are a few of the most used, and most hacked passwords in the world. Changing your password can be a hassle, but it's an important part of keeping our data safe. Digital has been working with Xantrion, the City's managed service provider, to implement improvements to our password protection service and increase login security for employees with Azure Active Directory (Azure AD) Password Protection Service, Microsoft's cloud-based identify and access management system.  
Azure AD Password Protection reduces the likelihood of account compromise by ensuring that user passwords are strong when set. The service uses a pre-built and Microsoft maintained password list with the following characteristics: 
Leaked credentials (several billion)

 

Passwords that attackers are actively using in attacks

 

A global banned password list of approximately 1,000 words gathered from Microsoft's security telemetry data of the weak base terms often used as the basis for weak passwords

 
Our next goal will be to determine a customized list of San Rafael specific words we want to add to our list of banned words that have the potential to leave employees more vulnerable to a cyberattack. 
---
REMINDER: 
Upcoming 
Computer Maintenance 
Sunday, March 7th, 3:00am  
This Sunday beginning at 3:00am we will be installing the latest round of Windows updates to all city desktops, laptops, and tablets. Updates will include bug fixes, security updates, and antivirus upgrades. Updates that impact critical 24/7 safety operations will be scheduled separately.  
What to do

:  Logout at the end of the day Friday. The update process may need to reboot your computer to finish.  If you are prompted to reboot over the weekend, you can reboot at your convenience.  Remote users, the quickest way to log off your remote session is to hold Ctrl + Alt and press the End key on your keyboard, left-click on Sign out. 

 

What to expect

:  Updates will happen behind the scenes and you should see no change on Monday.  If your computer is off, updates will install when your computer is powered back on. 




 
Wednesday, March 10th, 10:00pm – 3:00am  
On Wednesday, March 10th from 10 p.m. – 3 a.m. we'll be performing systems maintenance.  
What to do

: 

No action is required

—you may leave your computer on or turn it off. 

 

What to expect

:  

Remote Desktop and City Hall Network Drives will be unavailable between 10:00pm and 3:00am.  

DPW and Police Department Network Drives will stay online.

 
If you require technical support, please call Xantrion's Service Desk at (510) 272-4701.