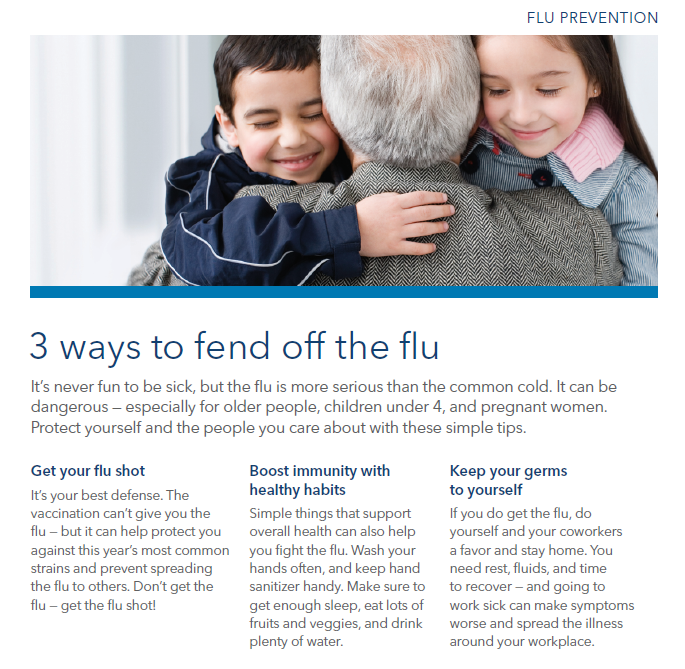 Welcome to our health topic for September — flu prevention.
This month's tips are designed to help protect you during flu season. With healthy habits and a flu shot, everyone can do their part to avoid getting the flu — and spreading it to coworkers.
The September challenge is "Express Thanks".  The Express Thanks challenges invites you to write 5 handwritten thank you notes, pushing you to thank people you might not normally thank!  This may seem old fashion in this day and age but a hand written thank you not can express appreciation more fully than text or email.  You will find a deep sense of gratitude as write out the message and the recipient will feel valued and know you took the time to appreciate them.  When we develop a mindset of gratitude, we can become more empathetic and have stronger relationships.  Buy some notecards, get out a pen and see how good it feels to write your thank you notes!
Building habits is easy….
1)    Believe it…Pick a habit that you are excited about
2)    Shrink it…Break down the habit into something you can achieve
3)    Trigger it…Choose a trigger for the habit, ideally something that already happens
4)    Prepare for it…Get the tools needed and prepare your environment for success
5)    Track it…Write down each time you do the habit so you can see progress
6)    Be it…make the habit part of your identity