Over the past several years, the City of San Rafael has been working to re-imagine  workplace culture through the Together San Rafael initiative. The Together San Rafael guiding principles provide a philosophical foundation for this cultural transformation, and the product management framework help put these principles into action.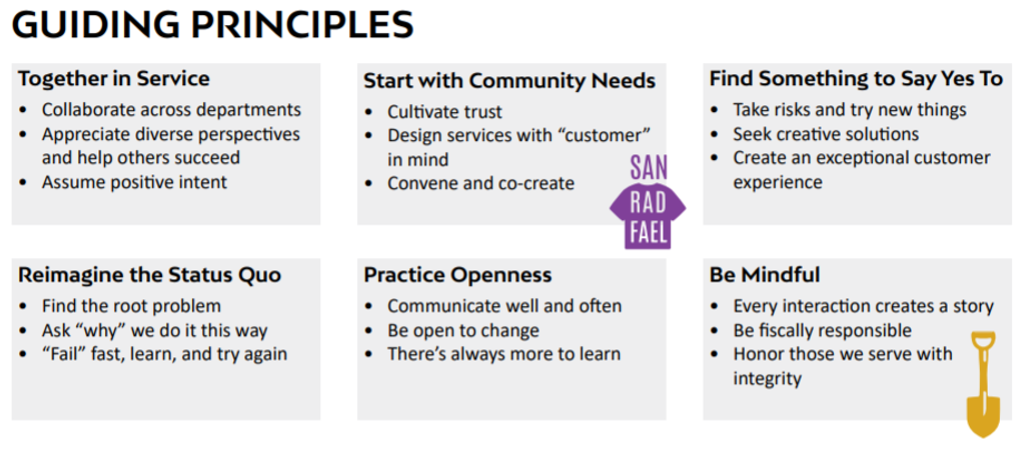 Product management puts the user, or customer, at the center of how we design our services with the goal of creating an exceptional experience for that person. It requires openness, a commitment to learning, and seeks to solve the root problem.
The Together San Rafael Learning Lab is a learn-by-doing training program where cross-departmental teams apply human-centered design to work challenges. Through this program, employees practice product management in developing problem statements, conducting user research and making iterations to solutions based on user feedback. The first generation of the Learning Lab program emphasized the education of human-centered design. As an increasing number of employees gain a better understanding of human-centered design and apply it to their work, the next generation of Learning Labs will build on the success of the first two labs and include Product Management education in an effort to help bake the concept into employee culture.
The Department of Digital Service & Open Government's strategic framework identifies product management as a key element to how the department will achieve its service design goals. The practice of product management will play a critical role in the department's overall purpose to make city services easy to use, and work for everyone.
"Traditionally, government has been very good at declaring success at the end of a project even if 'success' just means 'done.' Instead, we need to get better at iterating and improving the product as we go along so that 'success' means measurably adding value to our mission."

Jim Schutz, San Rafael City Manager