12:00pm - 1:00pm
Downtown Library
1100 E Street, San Rafael, CA 94901
---
Come join us on Wednesday, July 18th at Noon to discuss this AMAZING book called A New City O/S: The Power of Open, Collaborative, and Distributed Governance by Stephen Goldsmith, Neil Kleiman.
The Discussion will be led by Rebecca Woodbury, Senior Management Analyst at the Down Town Library Meeting Room.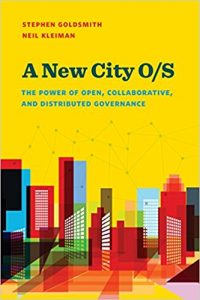 – If you haven't picked up your book yet, please stop by the City Manager's Office. You don't want to miss it!