YouTube Live & Real-Time Commenting Pilot
With an order to shelter in place due to Covid-19, we have to be quick on our toes to find creative ways for the community to participate from the comfort and safety of their homes. The City of San Rafael decided to implement YouTube live streaming and use its live-chat feature to receive public comment in real-time. We also needed to be mindful of community members who aren't comfortable online, or who don't have access to the internet, so we purchased a month-to-month membership through Zoom to allow community members to provide public comment over the phone. Additionally, we extended the cut-off time for people to write to the City Council by email until closer to 7:00 p.m. and published all correspondence submitted in advance of the meeting to our website. 
Most importantly, we wanted to offer a true alternative to in-person attendance. This is how we did it:
YouTube Channel and Enabling Live Streaming
We were lucky to already have a YouTube Channel we previously uploaded videos to. All we needed to do was go into our account settings and enable YouTube Live Streaming. Unfortunately YouTube takes at least 24 hours to respond and enable your Live Stream ability–so it's important to give yourself extra time to make sure this feature is set up and ready to go on your local government's YouTube account.
Find the Fastest Internet Connection
Wifi isn't going to cut it. Two of our biggest concerns were video delay and choppy streaming. We needed the fastest internet connection we could get, so luckily Vinh Pham from Digital was able to use a gigabit fiber internet connection for our live stream, which decreased our streaming delay to 3 seconds and enhanced our resolution to 1080p. I could go into serious detail about latency, pixels and frames per second (FPS) but I'll save you some time and just let you know that what Vinh did was make us as close to 'live' we had ever been, and gave us the best picture we had ever displayed.
Find a Streaming and Recording Program
We downloaded OBS for our live streaming program. We always have a videographer film our meetings to stream to Granicus, so we used a Magewell USB Capture HDMI Gen 2, provided by our videographers for no cost, to connect the Granicus footage and redirect it to OBS, which streamed live to YouTube. Once we got comfortable in OBS, we added source images and text to upload our logo and conference call number which was useful. All the kudos goes to our Digital team, because our crew had never heard of OBS until Friday, March 13, but spent the entire weekend becoming professional OBS users. We have a pretty cool team.
Scheduled Test Runs
We spent everyday running test videos that were "unlisted" (only viewable by link) on YouTube, and we sent links to folks in our agency to view and help us test while they were working remotely. Our Digital team uploaded videos of bees swarming around hives and left it running for 24-hours specifically to test the quality of the videos, and also to see if the video would crash. It never crashed and the bees were clear as day! We also needed to test the live commenting feature, and luckily we did because we discovered that users needed to create a Google account to use the comment feature. While you can watch it without having an account, you need one to comment–and that was important to know for our upcoming social media push. The more we tested, the more we learned and the better we felt. 
Schedule YouTube Live Stream & Social Media Push!
We needed to learn how to use YouTube Live Studio, which can be a little confusing. But we set an upcoming event with a thumbnail of our City Council and it displayed nicely and gave folks an option to "set a reminder" on YouTube so that they would be notified when the event started. Now it was time to drive folks to our YouTube channel and get them to create a Google account, subscribe to our channel, and set the reminder. We used NextDoor, Instagram, Facebook and Snapshot <3, our City Manager's newsletter, to get the word out and included images to show people how to create a Google account and subscribe to our channel. We created an Instagram highlight story so it would always be displayed and we added the conference call number to the bottom of the streamed video. This allowed anyone watching to call if they preferred, or couldn't figure out how to comment and make an account. 
Conference Call Ability
We knew we needed to make sure the meeting was accessible to as many people as possible, so we decided to open a second conference call meeting to anyone interested in listening and commenting over the phone. We purchased a second license through Zoom for $14 a month, and started playing around in it. No one on our team had used it for anything like this before, so there was a lot we needed to learn. I was concerned about controlling callers and keeping everything manageable. We tested this system a lot, and found out we could mute people and remove the ability for them to unmute themselves. We also found that if callers pressed *9, it would notify us they wanted to speak. This was useful because if things got crazy, we could mute everyone but they could still communicate with us through the *9 function. Once we realized we had a little more control, we felt much better. Have two different meeting ID's helped us feel more comfortable that Zoom bombers wouldn't bomb the meeting because the public line was a telephone only line.
Mayor and City Council Preparation
With testing continuing to go well, we started to focus on the Mayor, Councilmembers, and staff to make sure everyone knew what to expect for that evening. The most important thing our team did was create a script for the Mayor and City Council so everyone knew exactly what the meeting was going to look like. They all knew they would each have the opportunity to speak on agenda items, and they would be called on, in turn, multiple times. I think this helped limit the amount of talking-over people that often takes place on conference calls. Also, it helped us to not skip certain people because they weren't physically present. Additionally, we notified staff of the process and had them reach out to their partners to prepare for the new format. All of the work completed behind the scenes is what made the meeting a success.
Real-Time Commenting on YouTube
During the meeting, there would have been no way for me to manage the Zoom conference call lines and the public comment from YouTube, so Deputy City Clerk Brenna Nurmi was managing the comments coming through YouTube. During the first public comment section of the meeting, there was a comment from YouTube so I got up and grabbed Brenna's computer and brought it back to my seat to read them into the record. That was clunky and it wasn't practicing social distancing. So we changed our process mid-meeting and she began pasting the comments into a shared Google doc we were sharing and I read the comments she pasted aloud into the record.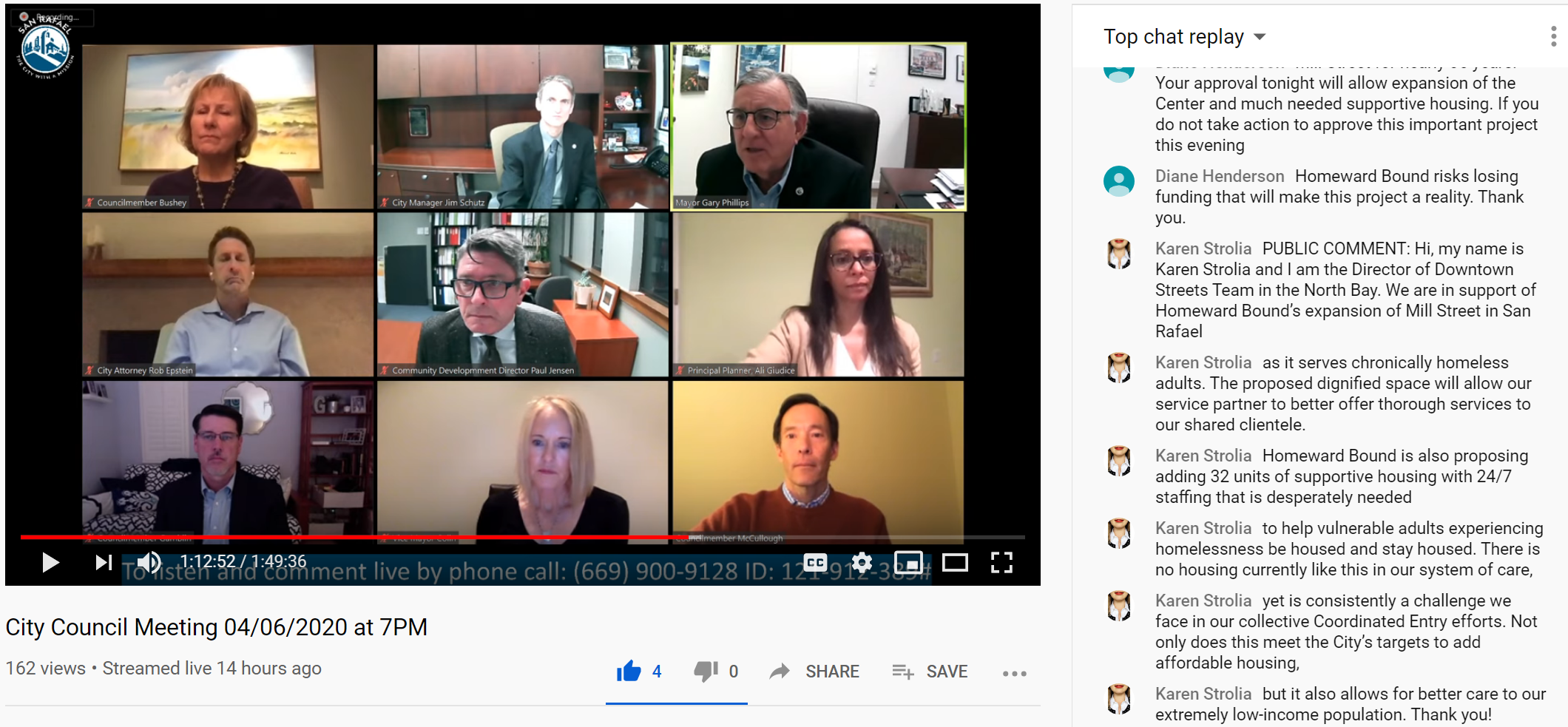 Final Thoughts and What's Next
It honestly couldn't have gone better than it did. We were terrified something wouldn't work with our technology, then we were worried no one would even use the live chat function after all our hard work, and we were worried we'd be put in a position to read something awkward. Well, none of that happened. It doesn't mean it won't, but it didn't. We had over 160 people watch the video live on YouTube, we received a good amount of comments on agenda items, and we had 25 callers on the line. Most importantly, we tried. We didn't just offer the status quo, but we did what we could to meet people where they are, and I couldn't be more proud of our team.
What's Next: we iterate. While our biggest fears didn't come true, could we do even better? Yes. We want to constantly improve. That is the benefit of piloting–we do it, solicit feedback, make changes, learn, and grow. If you have any feedback to share regarding this process, let me know!