Welcome to our health topic for February — heart health.
This month, we focus on simple things you can do to protect your hearts and reduce the risk of heart disease.  You can find more resources at our Choose Better site
The February challenge is "Hold On".  The Hold On challenges invites you to wait 5 days before making any optional purchases in the month of February.  When you buy something outside your usual realm of necessary purchases, write down the date and wait 5 days.  If you still want to buy it after the 5 days, then go for it!  This simple form of delayed gratification will help you spend less money and enjoy the things you do end up buying.  Research shows that 40% of purchases are bought on impulse.  If you can't pass up a deal, buy it, but keep it in the bag for 5 days so you can return it if you decide you do not really need it.  Who knows perhaps you will keep this challenge going on all year.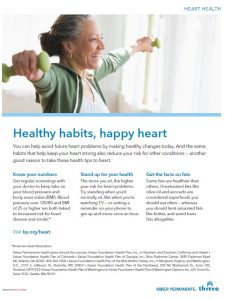 Building habits is easy….
1)    Believe it…Pick a habit that you are excited about
2)    Shrink it…Break down the habit into something you can achieve
3)    Trigger it…Choose a trigger for the habit, ideally something that already happens
4)    Prepare for it…Get the tools needed and prepare your environment for success
5)    Track it…Write down each time you do the habit so you can see progress
6)    Be it…make the habit part of your identity